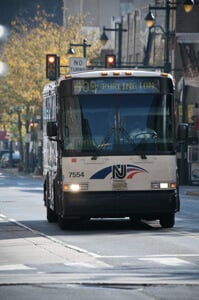 Mass Transit Accidents in New Jersey
When residents of New York and New Jersey hear about a serious public transportation accident, images of traffic collisions in Manhattan or subway or commuter train derailments often come to mind. However, bus accidents can also cause serious injuries to passengers, vehicle occupants, and pedestrians. Whether you ride NJ Transit buses as a primary mode of transportation or simply find yourself on the roads alongside these vehicles, it is important to know that an accident involving a NJ Transit bus can cause serious and even fatal injuries.
According to a recent report from NBC New York, a NJ Transit bus got into a severe accident in Jersey City after it "swerved to avoid a car." In swerving, the bus ended up hopping a curb and crashing into three vehicles in the parking lot of a Honda car dealership. Before it came to a stop at the dealership, the bus also "felled a light pole." When the accident happened at around 8 a.m. on a weekday, the bus had left Newark for Journal Square.
Staying Safe on Public Transportation
How often do mass transit bus accidents happen? According to a set of statistics provided by the U.S. Department of Transportation, bus accidents account for about 50,000 highway crashes each year. While that number might seem high, in terms of the total number of crashes reported each year, buses are responsible for less than 1% of all reported collisions.
Although buses may not be involved in as many auto accidents as other vehicles, it is still important to know about safety measures on transit buses and other forms of mass transportation. The National Transportation Safety Board (NTSB) provides a fact sheet about mass transit accidents and information useful to help make mass transit safer in major urban areas. According to the NTSB, mass transit includes "light rail, commuter rail, subway, ferries, streetcars, buses, and trolley buses." The following represent some of the key points about safety measures from that fact sheet:
One of the most important ways of ensuring passenger safety on mass transit is improved technology.
Operators of mass transit who use personal electronic devices such as smartphones or tablets while they are at work can cause serious accidents. As a result, many cities' mass transit authorities have banned the use of personal electronic devices for employees while they are at work.
Human error plays a significant role in accident and near-accident situations, and identifying potential scenarios involving human error can help transit authorities to provide training and education to prevent such scenarios from happening in the first place.
Video and data recorders on trains, buses, and other forms of mass transit can help to ensure that investigators know the causes of crashes in order to prevent them in the future.
If you or a loved one recently sustained injuries in a mass transit accident or a bus crash, contact a bus accident lawyer to determine your rights.