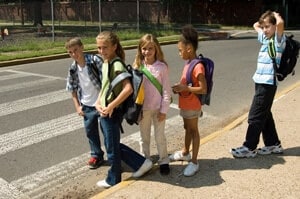 Younger Kids Have Greater Difficulty Crossing Streets Safely Due to Perceptual Judgment and Motor Skills, Study Says 
How much do you know about pedestrian accidents and child injuries? Have you noticed that younger children tend to have more difficulty crossing a busy street safely without the help of an older teenager or an adult? As a recent study in the Journal of Experimental Psychology: Human Perception and Performance points out, crossing a street might seem like a simple task when you are an adult, "yet it's anything but simple for a child." Why do kids have a harder time figuring out how to cross a busy street? The researchers who authored the study, which occurred at the University of Iowa, suggest that "children under certain ages lack the perceptual judgment and motor skills to cross a busy road consistently without putting themselves in danger."
The study specifically assessed children between the ages of 6 and 14 years old. How did they assess the subjects' abilities to cross the street? The researchers used a "realistic simulated environment" that required the kids to "cross one lane of a busy road multiple times." What did the researchers determine? The study showed that "children up to their early teenage years had difficulty consistently crossing the street safely." Indeed, 6-year-olds had accident rates of up to 8%. While that number was smaller for slightly older children in the study—for instance, 12-year-olds—the study nonetheless showed that even 12-year-olds and 13-year-olds have difficulty navigating a street crossing.
What is the difference between a 6-year-old's accident rate and a 12-year-old's accident rate? 12-year-olds were better able to recognize their limitations (at least in some capacity) and selected bigger traffic gaps to "cross" the street in the simulation. What can parents take away from the study? Even if your children insist that they have the skills it takes to cross a busy street safely and show precociousness in other areas, your child likely does not have the necessary perceptual judgment and motor skills to cross without incident every time. Only at age 14, the researchers suggest, have kids developed adequately such that they can judge the speed of an oncoming car and the distance of the car from the crossing point.
Pedestrian Safety Tips for Kids 
The recent study emphasizes that teaching your child patience—waiting to cross the street until there are no oncoming cars—may be one of the best ways to prevent pedestrian accidents in young children. A safety tip sheet from SafeKids.org also recommends the following:
Teach your children that they must look left, look right, and then look left again before they attempt to cross the street;
Teach your kids to avoid using any distracting devices (such as smartphones or even headphones) when they are crossing a busy street;
Teach your children to walk on sidewalks whenever they are available, and if there are no sidewalks, your child should walk as far to the left as possible in the street, facing traffic;
Do not allow a child who cannot properly judge the distance of oncoming cars or other necessary safety measures to cross a street without an adult; and
Show your child how to be a safe walker by following pedestrian safety tips yourself and highlighting yourself as a role model. 
Pedestrian accidents happen way too often! Keep your children safe- make sure they do not cross the street until they are ready and review the safety tips above before allowing them out on their own.