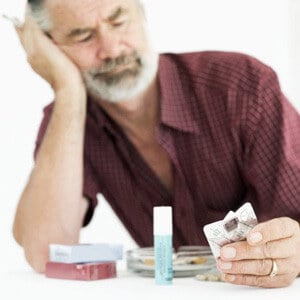 Individuals looking to quit smoking may turn to popular smoking-cessation drugs like Chantix (varenicline). Almost everyone has seen the commercials for Chantix, where a handful of people indicate that the drug has helped them reduce the urge to smoke and that they were even able to smoke the first week while they were taking the drug. The drug is even more appealing because it contains no nicotine (as many other treatments do) and maintains that it can block the nicotine receptors in the brain, so a smoker will no longer feel the need to smoke.
Sounds like the perfect solution for a bad habit, doesn't it? Well, like every drug, Chantix does have its side effects. So if you are thinking of taking the drug or already taking these pills, here are a few issues that you may encounter.
Be Careful
If you are a smoker, then you are aware of your risk of getting heart disease. According to the Food and Drug Administration (FDA), Chantix may increase this risk. The FDA ordered Pfizer, the maker of Chantix, to conduct a study of the side effects of the drug. This study found that the risk of an adverse cardiovascular event is not "statistically significant." The study was known as a meta-analysis, where "14 random, blinded, placebo-controlled clinical trials… found 52 out of 4,908 people taking Chantix had serious cardiovascular events, a rate of 1.06 percent, compared with 27 out of 3,308 people taking a placebo, a rate of 0.82 percent." These events included death, myocardial infarction (MI) and stroke. Since the study's findings, the FDA "required a change in the drug's warning label about heart risks in June 2011." The drug has also been reported to be linked with depression and suicide, although the FDA and a study conducted by Pfizer do not support this contention.
Dr. Curt D. Furberg, the senior author of the article published by the Canadian Medical Association Journal, points out that Chantix was a dangerous drug even before Pfizer's findings of heart risks. Dr. Furerg stated: "We have known for many years that Chantix is one of the most harmful drugs on the U.S. market…It causes loss of consciousness, visual disturbances, suicides, violence, depression and worsening of diabetes. To this list we now can add serious cardiovascular events."
Pfizer has also warned the public about the dangers of Chantix on its own website, where it admits that the drug can cause "agitation, hostility, depression, or changes in behavior, thinking, or mood" as well as the development of "suicidal thoughts or actions, anxiety, panic, aggression, anger, mania, abnormal sensations, hallucinations, paranoia, or confusion." Pfizer also contends that patients can have an allergic skin reaction to the drug, which may be life-threatening. Other common side effects include "nausea (30%), sleep problems, constipation, gas and/or vomiting."
According to the New York Times, Chantix was prescribed to 13 million people in 2010 and Pfizer "had $755 million in sales" from the drug in that year. Obviously, the negative publicity has not deterred people from trying the drug. There have been a number of lawsuits filed against Chantix for the harm it has inflicted on patients, where Dr. Furberg has participated as an expert witness. Doctors employed by Pfizer are aware of the risks emphasized by Dr. Furberg, but contend that the benefits outweigh any risks.
If any adverse cardiovascular events play a role in your family's history, then Chantix may not be the right solution for you. While the FDA has advised clinicians to weigh the benefits against the harms for every patient who wants to quit smoking, you should also be proactive about finding out about all of your options before deciding to take Chantix. Talk to your doctor about the risks associated with Chantix and how significant they can be to you - taking your age and family history into consideration. Choosing the right way to quit smoking is as important as deciding to stop, especially if it can cost you your life.
To see the warnings issued by the FDA, click here.  If you or a loved one may have been harmed by this drug, be sure to consult with a dangerous drug attorney to learn about your rights.