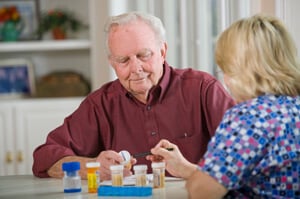 Popular Anticoagulant Linked to Fatal Injuries
Many older adults take the prescription medication Coumadin (a brand name for the generic Warfarin) to prevent strokes, blood clots, and heart attacks. However, according to a recent article in the Washington Post, without extremely close monitoring of patients on this drug, Coumadin can lead to internal bleeding or fatal blood clots. The article indicates that this prescription drug is frequently linked to fatal medication errors, particularly in the nursing home setting.
In a number of U.S. states, Coumadin has been linked to the highest percentage of serious medication errors. In other words, while many different drugs can be the subject of medication errors, Coumadin is most commonly associated with medication errors that produce serious and even fatal injuries.
What is the problem with this medication? As a report in ProPublica explains, there is a very delicate balance between too much Coumadin and too little. With "too much, you can bleed uncontrollably," and with "too little, you can develop life-threatening clots." Much too often, "nursing homes fail to maintain this delicate balance," thereby putting patients at risk of a fatal medication error.
ProPublica reported that between 2011 and 2014, "at least 165 nursing home residents were hospitalized or died after errors involving Coumadin or its generic version, warfarin." That data only shows the number of injuries that were picked up by government inspection reports. Safety advocates who have conducted additional studies contend that "there are thousands more injuries every year that are never investigated by the government." The continued use of the drug in nursing homes is disconcerting, especially given the high number of incidents of nursing home neglect and unrelated medication errors that take place in such facilities each year.
Learning More About Warfarin
What do you need to know about Warfarin? It goes by the brand names of both Coumadin and Jantoven, according to the American Heart Association, and it is "a prescription medication used to prevent harmful blood clots from forming or growing larger."
How does Warfarin work? Taking the drug presents a complicated balance between allowing the body to create necessary clotting factors while at the same time preventing harmful blood clots from forming or getting larger.
According to the Mayo Clinic, serious and potentially deadly side effects can occur during or after taking the medication. The Mayo Clinic emphasizes that, if you are prescribed Warfarin, you need to take particular care if you cut yourself as heavy bleeding may occur. Certain preexisting conditions can increase the risk of dangerous bleeding problems, including but not limited to:
High blood pressure or hypertension;
Stroke history;
Kidney problems;
Liver disease;
Alcoholism; and
Cancer.
Nursing home neglect is all too common.   Therefore, given the grave risks of taking Warfarin, always make sure that your elderly loved ones are closely monitored if they are taking this drug.