E-Cigarettes Causing Respiratory Illness and Lung Failure 
If you were hospitalized due to lung failure or sudden respiratory illness after using a vape pen, you may want to consult a lawyer to see if you are entitled to compensation. According to a recent CDC report, there have been more than 1,888 cases of vaping related illnesses in 49 states and 37 confirmed deaths.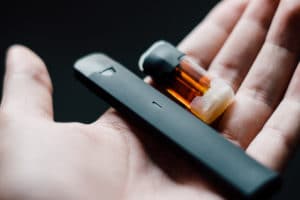 The Food and Drug Administration and other organizations like the Center for Disease Control have not identified any individual product responsible for these vape-related illnesses. Therefore, it is advisable that consumers cease the use of all vape pens, especially those with added flavorings, or thickening agents such as vitamin E acetate as reported in the news and NY Department of Health. 
If you are experiencing extreme coughing after vaping, stop using the device and get help. In the event that you have been hospitalized with respiratory illnesses after using a vape pen, contact a product liability lawyer to determine your rights. 
Is Vaping Safer than Smoking?  What Dangerous Chemicals Are Found in Vape Pens?
While vape pens and e-cigarettes have been touted by companies like Juul as healthier alternatives to smoking and the use of other tobacco products, recent hospitalizations for severe lung diseases linked to nicotine vape pens, indicate the fact that there are dangers associated with using these products. 
In general, E-cigarettes use a battery to heat a liquid containing nicotine or flavoring into an aerosol that is inhaled. Researchers have determined that many of the chemicals found in various brands of vape pen oils and flavorings are harmful when inhaled as an aerosol. The Surgeon General's 2016 report "E-Cigarette Use Among Youth and Young Adults" names a number of compounds in vape-pen oils that become harmful when heated into the aerosol vapor. Harmful chemicals in vapors include carcinogens like carbonyl compounds and volatile organic compounds, and even heavy metal particles in some brands of e-cigarettes. For example, diacetyl and acetyl propionyl are used in vape pens and these two chemicals are directly linked to the formation of a severe lung disease called "popcorn lung".
How Do I Know if my E-Cigarette is Safe? 
It can be difficult to know whether your vape pen is safe, because most vape pens and liquids are not regulated by the FDA. The flavorings that can be added to vape pen cartridges and vape-pen refill liquids are typically manufactured with very little regulations and then sold at venues that claim they are safe. 
Vape Pens Marketed toward Teenagers and School Age Children
Vape pens have become very popular recently - gaining traction within the last five years by extensive marketing by tobacco companies and social media. With vape pens becoming the most common mode of tobacco intake in the U.S., it is not surprising that more than a quarter of today's youth reported trying a vape pen, according to the Surgeon General. In fact, the Surgeon General reports that vaping is more common in high school students than it is in adults, and can lead to nicotine addictions. 
In addition, because vaping is a fairly new trend, there hasn't been extensive research to determine the long-term effects of vaping on younger populations that use vape pens. But vaping-related hospitalizations over the past year indicate that there may be more adverse health implications than companies disclose.
"The potential short- and long-term health consequences of inhalation of the heated and aerosolized constituents of the e-liquids, including solvents, flavorants, and toxicants, still require further investigation to quantify health effects," says the Surgeon General. 
Why Does Vaping Appeal to Kids?
Vape pens and E-cigarettes are designed to be attractive, especially to teens and young adults. With a sleek and modern look, vape pens are convenient to use and have little to no aroma, making them especially easy to use in secret at school or in the workplace. In addition, vape pens and E-cigarettes can be charged alongside cell phones for all-day usage. Vape pens also come in many flavors that appeal to kids. 
But when anyone, especially kids and teens, inhale flavored e-cigarette vapor, it is likely they are also inhaling microparticles which may cause serious health implications. 
Finally, on a whole, vape pens are typically used to deliver nicotine to the bloodstream via the lungs. Nicotine--a brain- and nervous system-altering substance that is notoriously addictive--is harmful to kids and adults alike. However, the effects of nicotine on youth are much graver than for adults. Specifically, if nicotine is inhaled as a vapor, it can stunt brain development for people under the age of 25, leading to behavior problems, long-term difficulties with attentiveness, and other issues that could have been avoided, according to the Surgeon General. 
Lawyers for Vape Pen Illnesses and Respiratory Failure
If you have experienced severe lung complications after using a vape pen, you may be entitled to seek financial compensation for your injuries.  Contact The Rothenberg Law Firm for a free and confidential case evaluation.