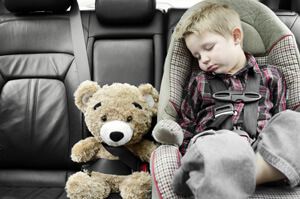 Child Injury and Delayed Product Recalls
Last year saw a number of product recalls. Indeed, the sheer number of vehicles involved in the Takata airbag recall alone has been staggering. Graco, the child product maker, is among the companies that issued a recall due to a defective product. However, according to a recent post on
AutoBlog.com, Graco did not issue that recall as quickly as it should have. In fact, the child product company has been fined $10 million for its failure to timely recall a dangerous car seat.The Graco recall involved more than 6 million car seats with defective buckles that were extremely difficulty to unlatch. Due to the product defect, children were injured.
Back in December of 2014, the National Highway Traffic Safety Administration (NHTSA) decided to look more closely into the recall "to decide whether there had been any delay in the announcement."The investigation determined that Graco did not issue its recall as swiftly as it should have. As a result, the U.S. Department of Transportation has issued the $10 million fine to the car seat maker. Graco admitted in a consent order that it did not disclose the problem to NHTSA soon enough.The investigation and the penalties arose under the National Traffic and Motor Vehicle Safety Act, which clarifies a company's obligations when it comes to product recalls like this one.
Where will the money from the fine end up? As a punitive measure, Graco will have to pay $3 million of the total fine to the U.S. Treasury. However, the remainder of the fine amount—$7 million—will be used "over the next five years to improve child safety."
The types of programs Graco will have to invest the $7 million are:
Creating campaigns to encourage new parents to register their car seats with the manufacturer;
Researching safety trends in the car seat and child product industries; and/or
Developing campaigns about safety awareness and car seats.
Know Your Facts About Child Passenger Safety
Car seats are an important way to help reduce the risk of injury to child passengers. According to the Centers for Disease Control and Prevention (CDC), parents should be sure that they are using car seats that are both age and size appropriate. When it comes to reducing the risk of severe and deadly injuries to children, parents should note some of the following facts:
When you buckle your infant (under the age of 1) into a car seat, you are reducing your child's risk of death by 71 percent.
Using car seats for toddlers aged 1-4 reduces the risk of a fatal injury in a passenger vehicle by 54 percent.
Children aged 4-8 should be buckled into booster seats. Using a booster seat reduces the risk of a serious injury by 45 percent "when compared with seat belt use alone." In other words, while it is important for kids to use seat belts, children aged 4-8 are much less likely to suffer a serious injury in a car accident if they are in a booster seat as opposed to simply buckled in with a seat belt.
Everyone over the age of 8 should always wear a seat belt, as it lowers the risk of a serious or fatal injury by about 50 percent when compared with those who do not wear seat belts.
Child safety is an important issue, and child injuries can be devastating. If your child recently suffered an injury because of a defective product, you should contact an experienced product liability lawyer to learn more about your rights.