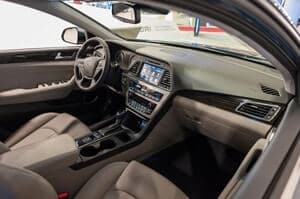 Investigation into Seatbelt Failures
Most drivers and motor vehicle passengers know that seatbelts can save lives, and that it is important to buckle up whenever we get into a car. However, the premise that seatbelts can prevent serious injuries in a car accident requires seatbelts to function properly. According to a recent article in The Car Connection, the National Highway Traffic Safety Administration (NHTSA) has begun an investigation into the 2013 Hyundai Sonata "following two reports that the car's seatbelts failed to restrain passengers during collisions."
Are two incidents really indicative of a possible auto product defect? NHTSA's quick response to the reports suggests that this could be a serious problem that needs to be addressed sooner rather than later. According to the article, "owners say that the front passenger-side seatbelt separated from the seat belt anchor." For instance, one consumer made the following report to NHTSA: "The driver's and passenger's seat belt locked as intended. The passenger seatbelt failed at the point where the lap restraint attaches to the car running board and will not reattach to the vehicle after the accident." The passenger cited in that complaint sustained a personal injury in the accident.
NHTSA has different levels of investigations. Typically, investigations begin in what is known as a preliminary phase, which is where this investigation currently stands. That means NHTSA will be communicating with Hyundai to determine whether there is a defect in the seatbelt or its attachment mechanism that is causing the "problem." If NHTSA determines, through contact with Hyundai, that the problem may be bigger than just a few vehicles, it could upgrade its investigation to what is known as an "engineering analysis." In that phase, NHTSA will attempt to replicate the problem in a laboratory setting in hopes of identifying the underlying cause.
If it turns out that there is a problem with multiple seatbelts or their mechanisms, NHTSA could end up recalling the affected Hyundai Sonata vehicles. The article indicates that "a full recall could affect as many as 313,000 vehicles in the U.S."
Seatbelt Safety: Getting the Facts 
Are seatbelts as effective at preventing serious car accident injuries as common sense suggests? According to a fact sheet from the U.S. Centers for Disease Control and Prevention (CDC), the following facts and figures highlight the impact of seatbelt use in motor vehicles:
Seatbelts are proven to reduce the rate of severe car accident injuries by about 50%;
In 2014 alone, seatbelts are reported to have saved more than 12,800 individual lives;
Air bags, used in conjunction with seatbelts, "provide the greatest protection for adults" from a serious auto accident injury;
States with primary seatbelt laws result in more people using seatbelts (and thus a lower rate of severe car crash injuries);
Parents can help set an example of seatbelt use for children and teens by wearing a seatbelt every time they are in a motor vehicle;
All children aged 12 and under should be properly buckled in the back seat to reduce the risk of car accident injuries;
Rear-facing child safety seats should never be placed in front of a car's air bag; and
Buckling children in the middle back seat is best, as it is the safest place in a motor vehicle.
If you or someone you love was injured in a car accident caused by a defective seatbelt or other defective auto part, contact a product liability lawyer to determine if you or your loved one are entitled to financial compensation.