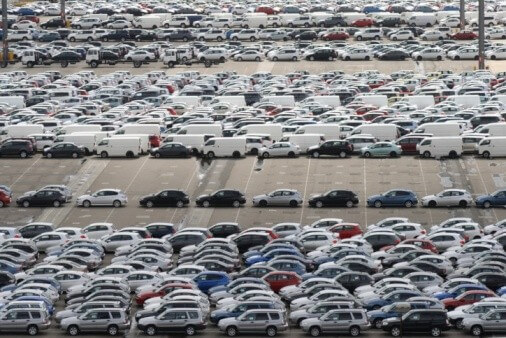 Toyota issued another recall that will affect a number of drivers in New York as well as other states. This recall involves the Tacoma pickup, a vehicle known for plowing through the snow and carrying a heavy load on its bed. According to its report to the National Highway Traffic Safety Administration (NTHSA), Toyota will have to recall 160,000 Tacoma pickups that were made from 2001 to 2004 because of a rust problem. Specifically, one of the parts -the lift plate - which holds the spare tire securely underneath the vehicle, has the potential to rust because of insufficient coating of anti-corrosion materials. The report states: "If the plate is insufficiently coated and the vehicle is operated in cold climate regions where road salts are frequently used, road spray can reach the carrier assembly and corrode the lift plate." Such corrosion can cause the plate to break, allowing the spare tire to fall away from the truck's bed.
Toyota claims that they will do their best to notify all Tacoma pickup owners of the defect and offer repairs at no cost. Notification letters should have gone out in December 2012 to all owners of Tacoma pickups which may possess the defect. While the recall has not been issued in all states, the automaker has agreed to inspect and repair (at no charge) any and all Tacoma pickup trucks that exhibit this defect.
According to the New York Times, this regional recall only covers vehicles registered or sold in New York and 19 other states, including Connecticut, Delaware, Illinois, Indiana, Kentucky, Maine, Maryland, Massachusetts, Michigan, Minnesota, New Hampshire, New Jersey, Ohio, Pennsylvania, Rhode Island, Vermont, Virginia, West Virginia and Wisconsin. The recall also covers the District of Columbia. These states have been especially targeted because of their "high road-salt usage" during the winter. An additional 10,000 trucks have been recalled in Canada for the same problem. Many auto safety advocates believe that the NHTSA should not allow regional recalls because automakers such as Toyota will not be held to the same legal standards outside of the designated states. Toyota strongly believes, however, that vehicles in other states will not be affected by this recall and is simply offering these services as a part of a "service campaign."
Long Time Coming
News reports indicate that the Tacoma has been known for its rust problems even before this recall. Toyota claims that they have been aware of the Tacoma's potential rust problem since 2009, which was confirmed by their 2011 analysis that the "anti-corrosion coating was inconsistent." Toyota continued to test parts under various conditions to determine other contributing factors to the rust problem. By early November 2012, the automaker determined that a recall was needed. However, the NHTSA requires that all automakers inform the NHTSA of a plan for recall within five working days after becoming aware of a potential safety hazard.
Failing to report a potential safety defect to the NHTSA has been a consistent problem for Toyota. In 2010, Toyota had failed to timely inform the NHTSA of a safety defect in their vehicles that caused the accelerator panels to stick. This incident cost Toyota $16.4 million in fines to settle the claim with the NHTSA, even though the automaker did not openly admit to any fault.
The NHTSA requires notification of safety hazards in vehicles because providing such information to the public can possibly prevent consumers from getting hurt. Some automakers do not take this concern as seriously as the NHTSA, as many accidents due to vehicle defects are reported before a recall is ever issued. These companies have opened themselves up to liability from consumers and from the NHTSA, who is dedicated to promoting safe travel.
To see more recent vehicle recalls, visit the NHTSA's website. If you have been harmed by a defective vehicle, consider contacting product liability attorney.