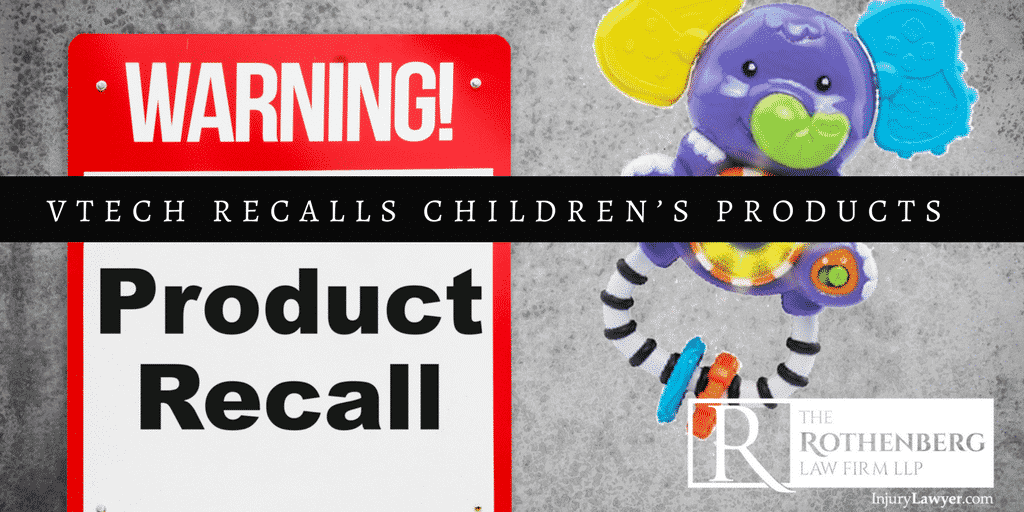 Infant Rattles and Children's Travel Mobiles Have Serious Child injury Risks
Does your infant or young child have a VTech rattle or travel mobile? You should know that the company recently issued a child product recall on certain items due to safety defects, according to a report from WebMD. As the report explains, although no child injured at daycare or elsewhere has been reported, these dangerous products from VTech could pose choking injury risks and struck-by injury risks to your infant or young child.
The first item is the "Shake & Single Elephant Rattle." VTech has received at least five reports of "the ears breaking off." What does this mean? The ears on the rattle are very small, and they pose a choking risk to infants. Approximately 280,000 recalled rattles were sold between November 2015 and November 2017. They were sold at a variety of physical and online retailers, including Amazon, Walmart, and Kmart.
In addition to these infant rattles, VTech has also issued a child product recall notice for its "Lights and Lullabies Travel Mobile," indicating that it "can be risky to kids." What is defective about this product? Similar to concerns about the ears breaking off the infant rattles, the company has received reports that "the plastic arm that clamps to a crib can crack and cause the mobile to fall into the crib." As such, the mobile can strike a child in the crib, potentially causing a serious head injury or traumatic bruising. About 37,000 of the defective travel mobiles were sold between February and November 2017. Like the rattle, these products were sold both online and through physical retailers. The specific model numbers that have been recalled are 80-503000 and 80-503050. The travel mobiles come in blue and pink.
If you are in possession of one of these recalled children's items, you should immediately stop using it and should contact VTech to learn about options for a refund or a replacement.
Child Injuries in the Home: Get the Facts
How do most severe and fatal child injuries happen in the home? A fact sheet from Safe Kids Worldwide provides the following statistics:
Suffocation is the most common cause of child injuries in the home, resulting in nearly 1,300 child deaths in 2013;

More than 22,000 kids visited emergency departments in 2013 for suffocation-related injuries;

Almost 80% of children who suffocate are under the age of 1;

About 155 children sustain fatal injuries each year from choking on an object or a piece of food;

Furniture tip-overs and struck-by injuries cause approximately 26 deaths every year;

More than 22,000 kids require medical attention each year after being struck by furniture or another object that tips over; and

Children's toys cause approximately 188,000 injuries requiring treatment in an emergency department each year.
If your child sustained injuries after using a defective product, contact a product liability lawyer to learn more about your rights.