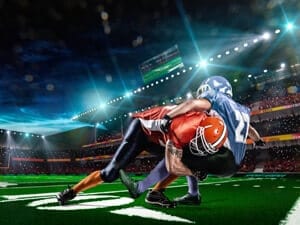 New Concussion Protocol for Professional Athletes
If you are a sports fan or have been paying attention to recent debates surrounding the safety of contact sports, you know that concussions are a major issue for football players, from youth to professional athletes. Is the National Football League (NFL) doing anything to help prevent sports-related brain injuries on the field? According to a recent article in Sports Illustrated, the NFL and the NFL Players' Association (NFLPA) have updated their concussion protocol, putting forth a concerted effort to improve the health and safety of players.
Why did the NFL and the NFLPA update the concussion protocol? The number of documented concussions among professional players has been rising each year—perhaps due in part to better detection methods and greater awareness of long-term consequences—and as such, the league has made an effort to reduce the rate of traumatic brain injuries (TBIs) among its players. In 2015 alone, the NFL received reports of 271 concussions. Relatively speaking, a small number of those brain injuries occurred during practice (37 in total), while many more occurred during games (234 in total). And if the number of 271 TBIs is not enough to make you take notice, the article emphasizes that the total number of concussions last year represents a 32% rise in these traumatic brain injuries from the previous year.
In response to the spike in concussions, the NFL and NFLPA announced updates to the "NFL Game Day Concussion Protocol." In addition to updating the protocol, the league has also indicated that it aims to discipline teams that do not follow the concussion protocol, which would put players at risk of additional and long-term injuries.
Learning More About Sports-Related Concussions
What is a concussion? According to a fact sheet from the Sports Concussion Institute, concussions are mild traumatic brain injuries that result from "either a direct blow to the head, or an indirect blow to the body, causing neurological impairments." The CTE Center at Boston University has studied the ways in which multiple concussions over a player's lifetime can result in a degenerative, debilitating condition known as chronic traumatic encephalopathy (CTE).
What are risk factors for sustaining a sports-related concussion? The Sports Concussion Institute fact sheet provides the following statistics:
An athlete's prior history of concussions plays a significant role in determining the likelihood of concussion;
If an athlete has previously sustained a concussion, he or she may be one to two times more likely to sustain another concussion;
Athletes who have previously sustained two concussions are two to four times more likely to sustain another concussion;
Athletes who have previously sustained three concussions are three to nine times more likely to suffer another brain injury on the field; and
A player's history of headaches, migraines, and developmental disorders can impact recovery time from a sports-related concussion.
If you or someone you love sustained a sports-related concussion, contact an experienced brain injury lawyer to learn more about your rights.