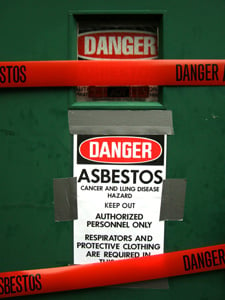 For more than 100 years, asbestos was used in building products, shipyards, and factories. Throughout that time it was an airborne presence affecting millions of workers. Even those who do not work in an area where asbestos fibers are found can be impacted by fibers brought home on clothing by other family members. With a latency period of 20 to 50 years, asbestos can cause diseases such as mesothelioma, asbestosis, and lung cancer many years after the initial exposure. It is estimated that as many as 21 million workers have been exposed to asbestos in the workplace over the last 50 years, and nearly 3,000 new cases of disease attributable to asbestos exposure are diagnosed each year.
Claims of damage related to asbestos exposure were filed as early as 1929, when the dangers of such exposure were first noted. Thousands of asbestos claims suits have since been filed against the manufacturers of asbestos products, charging negligence, design defect, and failure to warn. Over the years, hundreds of millions of dollars have been awarded in damages for asbestos claims.
Confirmed Asbestos Related Cancers 
Four cancers have been directly linked to asbestos exposure. These are lung cancer, mesothelioma, ovarian cancer and laryngeal cancer. 
Lung Cancer – The National Cancer Institute first confirmed that asbestos can cause lung cancer in 1942. According to the Occupational Safety and Health Administration lung cancer is the greatest risk for Americans who were exposed to asbestos at work. Of all lung cancer cases in theUnited States, around 4 percent are caused by asbestos exposure.
Mesothelioma– In 1964, a little over 20 years after asbestos was linked to lung cancer, it was also found to cause mesothelioma. In fact exposure to asbestos is almost solely responsible for all cases of mesothelioma. Coughing, shortness of breath, chest pain and abdominal pain are all symptoms of mesothelioma. This disease usually takes between 20 to 50 years to develop after exposure.
Ovarian Cancer – Ovarian cancer is the fifth most common cancer and cause of death in women.A 1982 case-control study on ovarian cancer and talc found that women with ovarian cancer were approximately three times more likely to have used talcum powder on the genital ar ea than control patients without ovarian malignancies. The study pointed out that cosmetic talcum powders are known to be contaminated with amphibole asbestos fibers, such as tremolite and anthophyllite. A 1999 case study showed that women who used talcum powder on their genital area had a 60 percent increase in risk for developing ovarian cancer.The risk for ovarian cancer among women whose husbands used talc on their genitals was found to increase by 50 percent. 
Laryngeal Cancer – It was confirmed that asbestos causes laryngeal cancer by the International Agency for Research on Cancer in March of 2009, and 12,740 cases were expected in the U.S. in 2011.
Some studies have linked asbestos exposure to increased risk for the following cancers as well:
Gastrointestinal Cancer
Colorectal Cancer
Esophageal Cancer
Kidney Cancer
Obtaining an Asbestos Claim Attorney
If you or a loved one has suffered an injury as a result of exposure to asbestos, call The Rothenberg Law Firm LLP at 1-800-624-8888 or submit an InjuryLawyer.com free online case evaluation. The initial consultation is FREE of charge. If we agree to handle your case, we only get paid for our services if there is a monetary recovery of funds.
In many cases, a lawsuit needs to be filed before an applicable expiration date, known as a Statute of Limitations. It is essential then to call right away to ensure that you do not waive your right to possible compensation.