Marc Rothenberg, Esq., of The Rothenberg Law Firm LLP was recently interviewed by NBC news on the topic of the dangers of Takata airbags. Mr. Rothenberg is currently representing a young woman who was critically injured as a result of a defective Takata airbag. In his interview, Mr.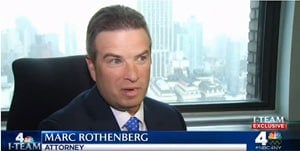 Rothenberg addressed the following questions:
Are we really safe inside our cars?  What should one do upon receiving a Takata recall notice?
Mr. Rothenberg pointed out how frightening it is to be in a serious motor vehicle accident, but having to further fear being catastrophically injured or killed by your own vehicle's defective Takata airbag is simply outrageous. For example, if you are "in an accident, and your airbag deploys, you or your occupants are subject to this metal firing at your face, your head, your neck at incredible speeds with incredible strengths that can cause deaths and horrible injuries."
To learn more about what to do if you own or lease a vehicle with a recalled Takata airbag, watch the full interview here.
Marc Rothenberg, Esq., is a leading member of The Rothenberg Law Firm LLP's successful team of personal injury, product liability and wrongful death trial attorneys. Mr. Rothenberg focuses his practice on litigating catastrophic personal injury and wrongful death cases in New York, New Jersey and Pennsylvania. For more than 40 years, The Rothenberg Law Firm LLP has exclusively represented victims of serious injury and their families in a wide variety of contexts, helping to rebuild their shattered lives. The Rothenberg Law Firm LLP maintains offices in New York City; Hackensack, NJ; Cherry Hill, NJ; Lakewood, NJ; and Philadelphia, PA. To obtain additional information regarding the Takata Airbag recalls, please review our latest blog on the subject.
For further information, or to speak with Mr. Rothenberg, please contact him at Marc @ injurylawyer.com or 1-800-624-8888.