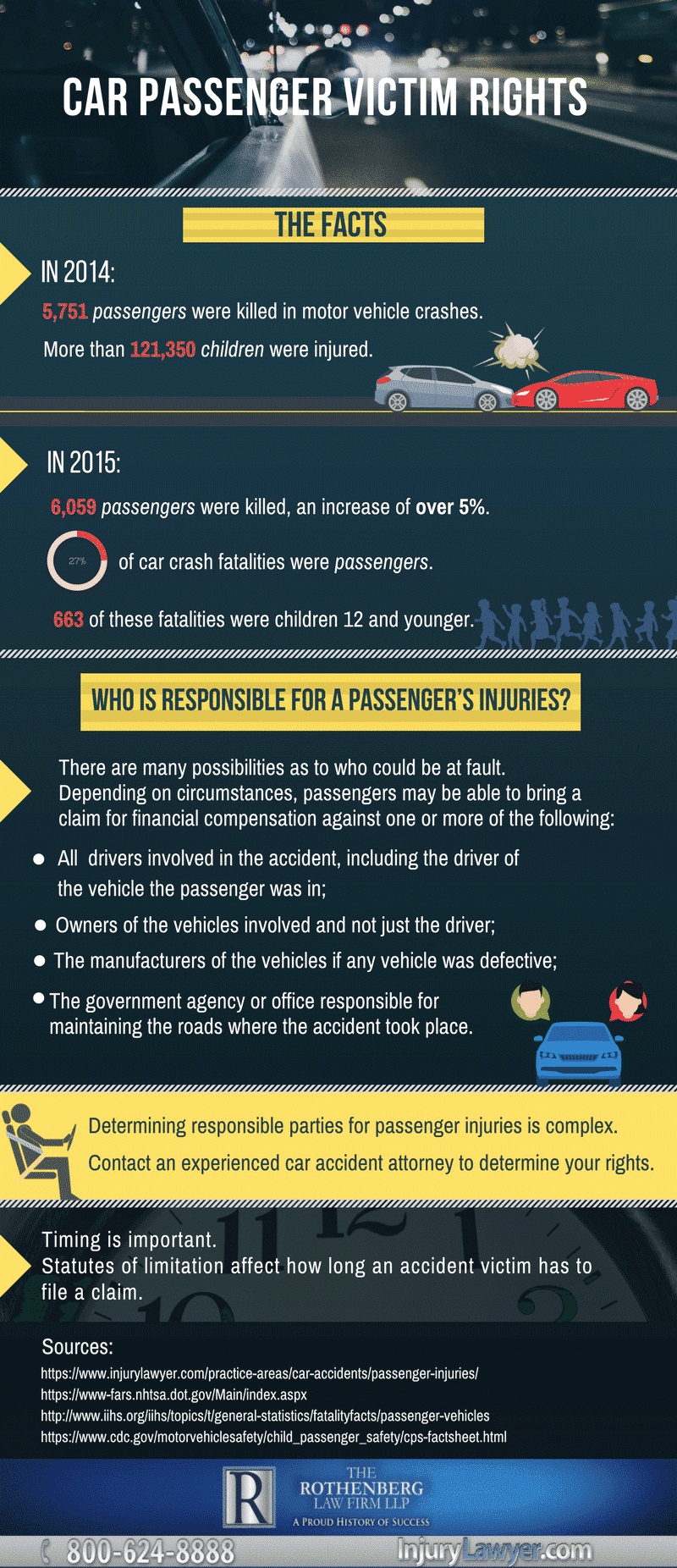 Car Accident Passenger Facts:
- In 2014, 5,751 
passengers were killed in 
motor vehicle crashes. - In 2015, 6,059 
passengers
 were killed, an increase of over 5%. - 27% of car crash fatalities were passengers. - There were 275 motorcycle passenger fatalities and 
95%
 of these were female. - 663 of these fatalities were children 12 and younger and in 2014. More than 121,350 children were injured. A passenger in a vehicle accident is considered free of liability unless:
The passenger commits an overt act that distracted the driver.
The passenger in some way contributed to the accident.
The passenger knowingly gets into a vehicle with an intoxicated driver.
After an accident, what information does a 
passenger
 need to get?
Names and insurance information of all drivers involved
Information about what happened to lead up to the accident
Weather or road conditions at the time of the accident
Names and contact information of any witnesses
Who is responsible or at fault for a
passenger's injuries
?  Could be any of the following:
All  drivers involved in the accident, including the driver of the vehicle the passenger was in;
The drivers of other cars in the accident
All drivers involved in the accident including the one the passenger was in
Owners of the vehicles involved and not just the driver
The manufacturers of the vehicles themselves
The government agency or office responsible for maintaining the roads where the accident took place
Who is responsible to pay for the injuries of a passenger? Some common scenarios include:
The driver of the vehicle the passenger was in is determined at fault: Their liability insurance coverage should provide for medical expenses, pain and suffering and lost wages to a limit once a claim is made.
○       Special rules may apply if the passenger is related to the driver.
The other vehicle's driver is at fault: The passenger can make a claim on that driver's liability insurance even if it was determined as shared fault between the drivers. The maximum that can be received is the total claim against all drivers.
Passengers can also file a claim on the medical portion of their own automotive policy. This is not based on liability but does not include any lost wages or pain and suffering that the passenger incurred.
○       If a passenger collects this type of insurance and later receives against the other claims that were made, the amount received may be deducted from the total liability claim. Determining the fault of an accident, and representing the rights of victims to get the maximum compensation is an extremely complex process, often with the interest of multiple parties involved.  For this reason, it is important to get experienced legal representation.
Timing is important
because statutes of limitation can affect how long an accident victim has to file a claim. Sources:
https://injurylawyer.com/car-accident-lawyers/passenger-injury-claim/
https://www-fars.nhtsa.dot.gov/Main/index.aspx
http://www.iihs.org/iihs/topics/t/general-statistics/fatalityfacts/passenger-vehicles
http://www.iihs.org/iihs/topics/t/motorcycles/fatalityfacts/motorcycles
https://www.cdc.gov/motorvehiclesafety/child_passenger_safety/cps-factsheet.html