Fraudulent Weight Loss Infographic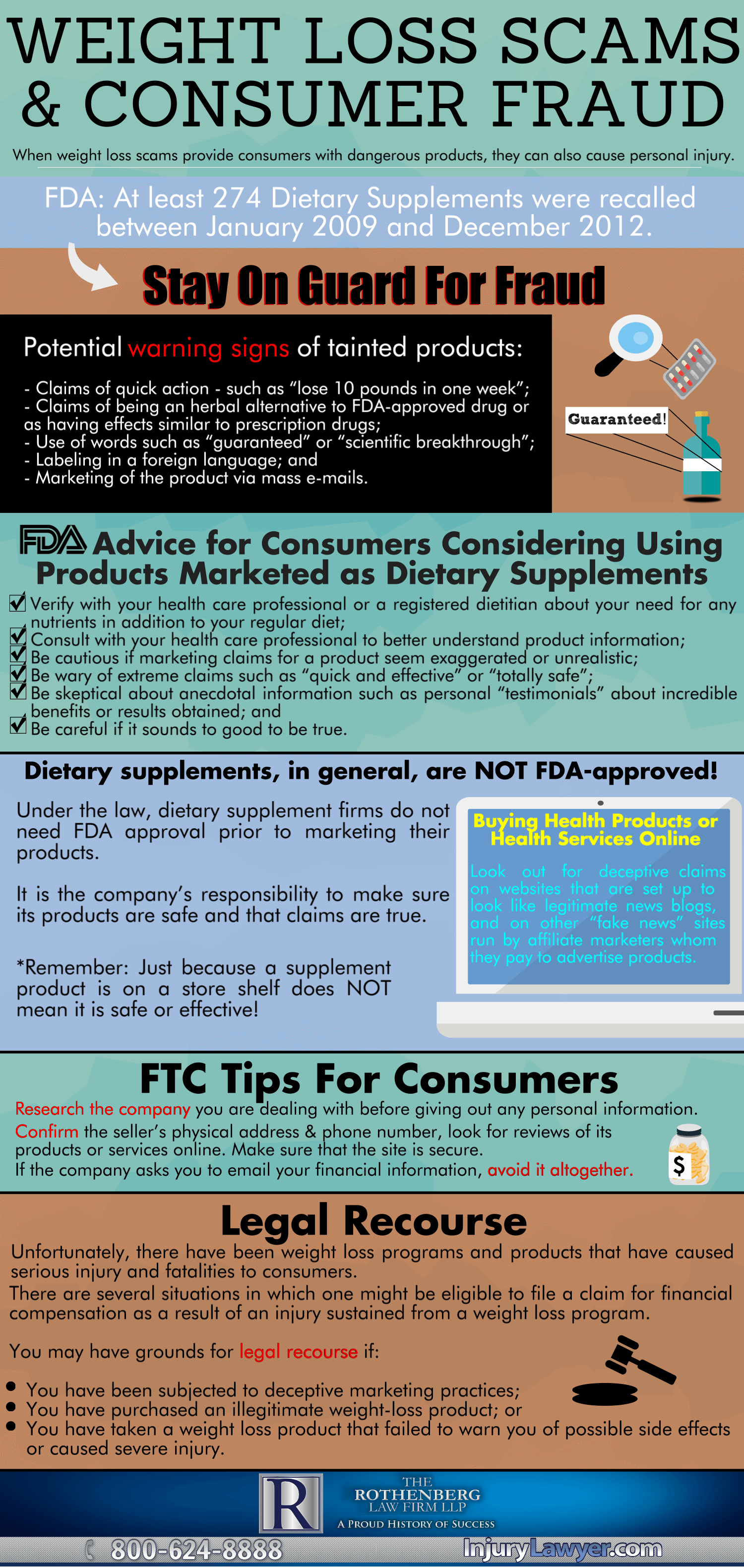 ---
Content Summary for The Weight Loss Scams and Consumer Fraud Infographic
Many Americans fall victim to consumer fraud of all types. Be aware some Weight Loss scams can provide consumers with dangerous products which may lead to personal injury. Many individuals make New Year's resolutions to lose weight, and those people may be particularly susceptible to consumer scams involving weight loss products. According to data from the FDA, at least 274 dietary supplements were recalled between January 2009 and December 2012. Stay on Guard for Fraud Pay attention to potential warning signs of tainted products, such as:
Claims of quick action (often not realistic), such as "lose 10 pounds in one week;"
Claims of being an herbal alternative to FDA-approved drug or as having effects similar to prescription drugs;
Use of words such as "guaranteed" or "scientific breakthrough;"
Labeling in a foreign language; and
Marketing of the product via mass e-mails.
FDA Advice for Consumers Considering Using any Product Marketed as Dietary Supplements:
Verify with your health care professional or a registered dietitian about your need for any nutrients in
addition to your regular diet;
Consult with your health care professional to better understand product information;
Be cautious if marketing claims for a product seem exaggerated or unrealistic;
Be wary of extreme claims such as "quick and effective" or "totally safe;"
Be skeptical about anecdotal information such as personal "testimonials" about incredible benefits or
results obtained; and
Be careful if sound to good to be true.
Dietary supplements, in general, are not FDA-approved. Under the law (Dietary Supplement Health and Education Act of 1994), dietary supplement firms do not need FDA approval prior to marketing their products. It is the company's responsibility to make sure its products are safe and that any claims are true. Remember: Just because you see a supplement product on a store shelf does NOT mean it is safe or effective. Buying health products or health services online: Look out for deceptive claims on websites that are set up  to look like legitimate news blogs, and on other "fake  news" sites run by affiliate marketers whom they pay to advertise products. The FTC (Federal Trade Commission) offers tips for consumers: Always research the company you are dealing with before giving out any personal information. Confirm the seller's physical address and phone number, look for reviews of its products or service online, and make sure that the site is a secure one. If the company asks you to email your financial information, avoid it altogether. Legal Recourse: Unfortunately, there have been weight loss programs and products that have caused serious injury and fatalities to consumers. There are several situations in which one might be eligible for monetary compensation as a result of an injury he or she sustained from a weight loss program. You may have grounds for legal recourse if: You have been subjected to deceptive marketing practices; You have purchased an illegitimate weight-loss product; or You have taken a weight loss product that failed to warn you of possible side effects or caused severe injury.