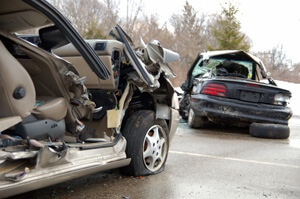 Accident risks are around us every day.  Think about it: as you walk to work you dodge a car that speeds through a red light. You walk down two blocks, turn the corner onto a construction zone, and narrowly miss a hammer dropped by a worker from up above. It is only at the last minute that you catch a hole in the ground in front of you where no warning sign was placed. At work you avoid the escalator malfunction that has injured three people that morning by deciding last minute to take the stairs. It goes on and on.  Whether we know it or not, much of our lives are guided by near misses.
But there will always be times when luck is not on your side, and you are hurt because of the acts of another. On top of dealing with the pain, you are forced to deal with the expenses associated with the accident, whether it is repair costs for our cars or medical costs for ourselves.
Why should you have to deal with these costs when the accidents were not your fault to begin with? Well actually, you don't always have to go it alone. If you contact an accident lawyer, you may be able to receive financial compensation to recover for the losses associated with the accident.
What Types of Accidents Can I Recover For?
As long as your accident was caused by the negligent acts of another, you can recover for your losses. Depending on your particular case, you may be able to recover for your medical bills, loss of wages, and pain and suffering. Here are a few examples of the types of accidents that victims were able to recover for:
Accidents involving children

: Children can be involved in a variety of accident cases, such as getting hit by an oncoming car while they are bike riding or playing. A child is innocent and precious, and there are many instances where someone else should have taken care around that child but failed to do so. In these instances, a parent can recover for their child's injuries as well as emotional distress.

Construction accidents

: Many accidents have been known to occur in or around a construction site. Whether you are an employee or just a passerby, you may be able to recover for your injuries.

Premises Liability

: Accidents can occur in common areas of buildings or other premises. The owner of the premises is responsible to keep such areas safe for the public. Victims can recover from an owner in these cases.

Motor vehicle accidents

: With so many distractions on the road today, from texting to drunk driving, accidents are inevitable and insurance rarely covers the full amount of the expenses you have incurred. Your injuries as well as other losses such as car repair can be recovered in these cases.

Wrongful Death

: It is painful to lose a loved one, but even more painful to find out that this loss could have been avoided. Aggrieved family members can recover for emotional distress as well as any financial loss incurred due to the death of a loved one.
How Can I Recover?
An experienced accident lawyer will help you recover for your injuries. The seriousness of your injuries can add overwhelming financial responsibilities that you should not have to pay for. An accident attorney will relieve some of that financial burden by holding negligent parties legally responsible for their actions. Do not allow those who are negligent get away with causing you pain – consult with the accident attorneys at The Rothenberg Law Firm LLP today.