A great way to take in and enjoy all that Philadelphia has to offer is by biking throughout the city. Philly offers great bike routes! At the same time it is critical to prepare to make sure that you understand the rules of the road for bikers. Safety comes first. Remember to always wear a helmet and take all precautions necessary to avoid a bicycle accident. 
An informative Philadelphia Magazine review  '19 Bike Trails Around Philadelphia That You Need to Try" covers some of the best and most interesting.
PENNSYLVANIA BIKE ACCIDENTS: SOME IMPORTANT  FACTS
According to an extensive PennDot report from 2018:
Children ages 5 to 14 were the most vulnerable to injury including fatal injury while riding a bicycle. Over a sixth of the injuries involving bicycles were suffered by this age group. Another vulnerable group, persons ages 15 to 19, accounted for 15.3% of the total injuries.

The majority of bicyclists were injured at intersections and fatally injured at non-intersections.

The majority of bicyclists' injuries occurred during daylight hours. However, several of the fatalities occurred during non-daylight conditions. 

83% of the fatalities of bicyclists occurred on state roads in 2018, while 50% of the injuries occurred on non-state roads.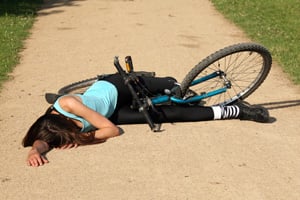 Bikers should ride  on the shoulder of the road,in the same direction as the flow of traffic, but are not required to do so.

Persons riding bicycles on a roadway should not ride more than two abreast (side-by-side), unless on paths or roadways set aside for exclusive use of bicycles.

Motor vehicles must allow 4 feet of distance when overtaking a bicycle and travel at a careful and prudent speed. It is the motorist's responsibility to provide this distance, not that of the cyclist.

No person shall open any door on a motor vehicle unless and until it is reasonably safe to do so and can be done without interfering with traffic flow.

Cyclists may be injured or killed when a door is opened in their line of travel (dooring). Therefore, a distance of 4 feet should be kept between parked motor vehicles and the line of travel when riding along parked vehicles.