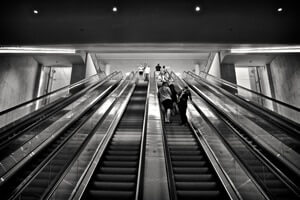 Are Escalator Injuries Common? 
How dangerous are escalators and how often do escalator accidents happen? While many of us ride escalators on a daily basis, we probably do not consider the risks of a serious fall-related accident. According to a recent article in New York Daily News, a woman sustained fatal injuries after falling inside the World Trade Center Transportation Hub in New York City. The 29-year-old victim "teetered over the handrail about halfway down the escalator" while reaching for her sister's hat. Losing her balance, the victim fell 34 feet and succumbed to her injuries from the fall. 
According to a fact sheet from the Port Authority of New York and New Jersey, the transit hub serves about 250,000 Port Authority Trans-Hudson (PATH) commuters, not to mention the "millions of annual visitors from around the world." If the escalators are not properly equipped to prevent falls—and possibly deadly injuries—what can be done?
According to Patrick Carrajat, who wrote "The History of the Elevator Industry in America," an outrigger handrail could have prevented the accident from happening. An 18-inch-wide outrigger handrail, Carrajat indicates, is "not very expensive." In total, it would likely have cost the Port Authority approximately $5,000, yet the safety code does not require this "extra handrail protection."
Carrajat explained that most buildings do not elect to install this additional handrail protection on escalators, "even at spots where users could experience a fatal fall." However, this does not mean that buildings should not install these handrails. In fact, because they are inexpensive, especially in relation to the overall cost of many of these buildings, it would make sense to take safety precautions that could prevent severe and life-threatening accidents.
Understanding Escalator Dangers and Risks 
An article in Popular Science asked the question: Why are escalators so dangerous? In response the article suggested that one of the primary reasons that escalators pose serious safety risks is that their design has not been substantially updated since the nineteenth century. The escalator was patented in 1892, and its design remains surprisingly similar today to the models of more than 120 years ago. According to the article, "there is no incentive for escalator manufacturers to do anything different."
Just how dangerous are escalators? A report from the U.S. Centers for Disease Control and Prevention (CDC) provides the following statistics:
Escalators and elevators result in about 30 deaths each year;
Annually, escalators and elevators lead to around 17,000 personal injuries in the U.S.;
The majority of elevator and escalator accidents involve employees who are working in or around the elevator or escalator; and
Many escalator and elevator injuries and fatalities could be reduced if electrical circuits and mechanical equipment were "locked out" when the machine is not in use.
It is important to be extremely careful when riding on an escalator. One fatality due to an escalator is one too many!