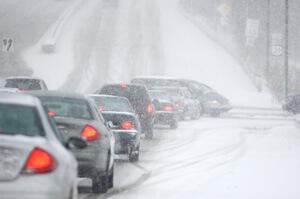 Icy Rain and Dangerous Road Conditions
Driving in winter can be extremely hazardous. Given that the northeast recently experienced significant winter storms in which travel bans attempted to prevent dangerous auto accidents and fatal injuries, it should not come as a surprise that snow and ice can make for a deadly commute. According to a recent article from NBC News, icy rain across the tri-state area caused several fatalities.
Sleet can be one of the most dangerous weather phenomena when it comes to roadway hazards. Slick asphalt can quickly lead to a deadly car accident. Icy rain resulted in a 60-car pileup in Pennsylvania that killed at least one person. The storm also caused accidents in New Jersey and throughout the Philadelphia metro area, resulting in several more deaths in traffic collisions.
Reports from NBC Philadelphia indicated that drivers continuously encountered patches of ice across the highways. One driver who was involved in the 60-car pileup told the new station, "I'm pushing my brakes, and my car just started slipping into the cars." He emphasized the inability for any drivers to come to a safe stop on the icy road, explaining, "as I hit the car, a car comes behind me and hits me. I'm swimming around four, five times as other cars are hitting that car and hitting me, as well."
Freezing rain advisories were issued, and authorities urged drivers to stay off the roads. Those advisories affected more than 32 million people in the Pennsylvania-New Jersey area. New Jersey State Police even turned to Twitter warning drivers about the 428 accidents that had already taken place.
Snow, ice, and freezing rain are often accompanied by heavy fog, according to The Weather Channel. As such, even if a storm has passed through, do not assume it is safe to drive. The roads may be quite slick, and fog can prevent good visibility.
Safety Tips for Winter Driving
We all know that we should prepare our vehicles for the winter months, which includes replacing worn tires and having antifreeze levels checked. But what about when you are already out on the road? While it is important to avoid driving in hazardous conditions, we know that it is not always possible to stay off the road. Here are some important tips for staying safe if you have to drive in snow, freezing rain, and heavy fog:
Keep a winter safety kit in your car at all times during the cold months, which should include a snow shovel, sand or salt, an ice scraper, and jumper cables. Remember, batteries are more likely to fail when it is cold outside.
Always clear away snow and ice from your car before driving. This includes all windows, mirrors, and lights, as well as snow accumulations on the hood, trunk, and roof of your car.
Do everything you can to improve visibility, which means driving with your headlights on even if it is daytime.
Make sure your windshield washer reservoir is full and that your windshield wiper blades are in good condition.
Reduce your speed and always increase your following distance. You want to give yourself time to properly stop and to avoid a car crash.
Learn how to brake properly if you hit a slippery patch of ice. To do this, you need to know if you have anti-lock brakes - this information is essential to knowing how to properly brake if you hit some ice. Take a look at your owner's manual or talk to your mechanic about how to brake if you encounter an icy road.
Do not use cruise control—you should be in control of your vehicle if you encounter snowy or icy conditions.
Bridges and overpasses get icy before highways. As such, be particularly cautious when you are driving on these surfaces.
Do not let your gas tank drop below half full. This way, if you get caught in a storm and need to pull over, you will have a source of heat.