Car accidents and insurance issues can be a complex and frustrating problem for motorists.  Legal professionals can help you deal with insurance companies, creditors, and the judicial system to reach a settlement and move past your accident.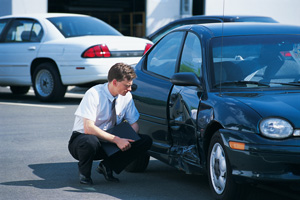 Types of Coverage
Many states require drivers to maintain a minimum amount of liability coverage. Liability coverage is the insurance used to pay for damages accrued by others in an accident that you caused.  The minimum amount required by law varies from state to state, but a driver can always carry greater coverage if they choose.  Liability insurance pays only to settle claims or judgments against you if you are found negligent or liable in a vehicular accident.
Uninsured and Underinsured Motorist Benefits
This type of coverage helps to protect yourself when a negligent driver who has caused you damages has no liability insurance or only a limited liability insurance.  If the amount of your damages exceeds the coverage in the other driver's policy, you can make a claim with your own insurance company to cover for the difference.  For example, if you were injured in a car accident and your injury was worth $100,000, but the liability policy the defendant held was only $50,000. If you hold an Underinsured Motorist policy greater than the amount of the defendant's policy (in this instance your policy would have to be greater than $50,000), you would be entitled to make a claim with your own insurance company for the remainder of the money owed to you for your injury up to the amount of your own policy.
Different insurance companies refer to this type of coverage with different names.  The purpose of this coverage is to pay for medical bills accrued by the driver or passengers of the insured car only.
Collision coverage helps to pay for repairs to or replacement of your vehicle after an accident, regardless of who is at fault.  Typically the insured party will have to pay a fixed amount before the insurance company will pay benefits; this is known as a deductible.  This coverage affords you insurance in the event that you are at fault in an accident, if you are in an accident with someone who has no insurance, or if you are in an accident with someone who flees the scene of the accident.
Legal Help with Insurance
If you or a loved one has suffered an injury or needs advice regarding insurance, The Rothenberg Law Firm can provide the experienced legal help you need.  The firm can be reached at 1-800-624-8888 or you can fill out a free online case evaluation form. The initial consultation is always FREE. If we agree to handle your case, there is no legal fee unless we are successful in getting you money.