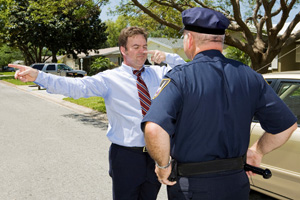 Every year in the United States, between ten and fifteen thousand motorists and pedestrians are killed as a result of drivers who were operating a motor vehicle under the influence of alcohol.  Tens of thousands more are seriously injured under the same circumstances.  Individuals throughout our city, from the Bronx, Manhattan, and Queens to Brooklyn and Staten Island are affected every year by this problem.
In light of these statistics, the Department of Transportation (DOT) is partnering with state and local authorities to ramp up its "Drive Sober or Get Pulled Over" campaign.  The National Highway Traffic Safety Administration (NHTSA), an enforcement branch of the DOT, is joining with Mothers Against Drunk Driving (MADD) and the Governors Highway Safety Association (GHSA) to help spread awareness that drunk driving causes thousands of needless fatalities and injuries, and that anyone caught driving drunk can expect to face stiffer penalties than ever before.  Those penalties will include criminal charges and potential civil liability to help those hurt by their reckless conduct.
Way About the Legal Limit
The United States Secretary of Transportation, Ray LaHood, says that drunk driving "remains a serious, unacceptable threat to our families and our communities."  Citing a recent Department of Transportation study, he added that the extent of violators' impairment continues to worsen.  As most people know, the legal limit of blood alcohol concentration is .08%, as measured by the percentage of alcohol by volume present in an individual's blood.  The Department of Transportation study concluded that in more than 70% of all drunk driving incidents in which a fatality resulted, the impaired driver had a blood alcohol concentration of .15% or more.  This means that in the vast majority of drunk driving fatality cases, the perpetrator was at an average impairment level of nearly twice the legal limit.
What may be even more startling than these averages is that the most commonly recorded blood alcohol concentration in these cases was .18, a level of intoxication at which motor functions, decision making skills, and reaction times are all greatly diminished.
Lives Forever Changes By Drunk Drivers
What this means for law abiding motorists is that their lives can be cut short or forever changed by an individual who should not be on the road under any circumstances.
In light of these facts, the federal government is contracting with local and state police to set up drunk driving checkpoints along major roadways in which drunk driving has been common.  Motorists who pass through these checkpoints will be randomly selected for closer inspection by trained officers, who will also have the authority to perform non-random inspections of individuals who are exhibiting telltale signs of impaired driving.
The program's leaders hope that these measures will dramatically reduce the number of drunk drivers on the roadways, either through targeted enforcement or by the deterrent factor created by the ad campaign.  Authorities expect that the public will accept any minor inconvenience caused by the targeted enforcement, and New York car accident attorneys hope that they will receive fewer calls about loss of life and catastrophic personal injuries at the hands of drunk drivers.