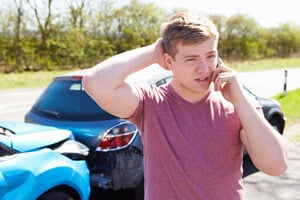 Human Error and Car Accidents
When a car accident happens, who or what is typically to blame? According to a recent report from The National Highway Traffic Safety Administration (NHTSA), the vast majority of traffic collisions are caused by human error. The report emphasizes that human error accounts for over 90% of accidents.
An additional report in Alertdriving.com suggests that "90% of . . . road accidents are related to bad driving behavior," citing some of the following:
Reckless driving;
Speeding;
Driving under the influence of alcohol;
Failing to signal before changing lanes;
Running red lights; and/or
Driving on the hard shoulder of the road.
The article underscores that our current decade has been named by the United Nations as "the Decade of Action for Road Safety," encouraging new global responses to preventable auto accident fatalities.
Car Accident Prevention Tips 
How can we help to lower the number of car crashes caused by human error?
According to the U.S. General Services Administration, one of the best ways to prevent auto accidents is to ensure that you are focused when you are behind the wheel. In other words, do not engage in distracted driving, which can take any of the following forms:
Manual distraction (where your hands are off the wheel);
Visual distraction (where your eyes are not on the road); and
Cognitive distraction (where your mind is focused on something other than driving).
NHTSA also recommends the following to ensure that your vehicle is safe for driving:
Purchase a vehicle that gets 5-star crash test ratings;
Stay up-to-date on automobile defects and recalls (and heed recall notices); and
Learn more about new automotive safety technology to keep yourself and your family safe.
If you were injured in a car accident, contact an experienced car accident lawyer to discuss your right to financial compensation.