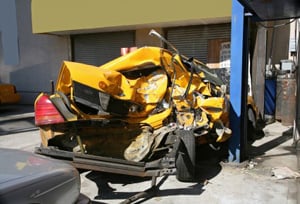 Seat belt Saves Lives
Earlier this month in Hackettstown, NJ, a car accident caused a 14-month-old-girl to be ejected from a taxicab.  While the other people in the vehicle had been wearing seat belts, including the child's parents and the driver, the 14-month-old girl was not wearing any kind of child restraint according to NJ.com.
What Are the Details of the Accident?
On April 1,2013 emergency medical responders rushed to the intersection of Franklin and Lafayette streets in Hackettstown, where they found a baby ejected from a taxicab and three other persons trapped inside the car.  Following an investigation, the police determined that a 1999 Toyota drove through a stop sign and hit the 2005 Ford taxi.  The impact from the crash "caused the taxi to hit a telephone pole."  The two adult passengers were taken by ambulance to the Morristown Medical Center with hip injuries, while their daughter suffered a head injury during her ejection from the car and was flown to the same hospital.
Who's Responsible for the Child's Injuries?
Darren Tynan, an investigating police officer, told news agencies that children who are 8 years old or younger and who weigh fewer than 80 pounds "must be secured in a child safety seat or booster seat in the rear of a vehicle in New Jersey."  He emphasized that there are no exceptions to this rule when it comes to taxicabs.  In taxis, the driver is responsible for his or her passengers, and that includes following all laws related to seat belts and child restraints.
In addition to the child safety seat requirement, New Jersey's Seat Belt Law, NJS 39:3-76.2f, states that all vehicles must be equipped with seat belts, and all passengers between the ages of 8-18 must wear seat belts at all times.  Furthermore, all drivers and front-seat passengers are required to wear a "properly adjusted and fastened seat belt" at all times during motor vehicle operation.
The NJ.com article reported that, while taxi drivers are required to make sure that passengers follow seat belt laws, the parents also may be liable for the child's lack of seat belt.  Tynan indicated that "it could fall under endangering the welfare of the child," but he also said that the police would not be issuing "tickets or summonses until the completion of the investigation."
In response to taxi accidents in the tri-state area, the New York Times reported that the numbers of crashes involving taxicabs continues to rise, and the number of related injuries has also increased.  This includes accidents involving yellow cabs, legal livery cars, and illegal gypsy cabs.  While this news may be reason enough to buckle up, it's wise to understand why it's important to wear a seat belt.
Always Wear A Seat belt

The New Jersey Department of Law & Public Safety provides some information about the importance of buckling up when you're in a motor vehicle:
Seat belts save lives and reduce injuries during accidents·

   

Seat belts work together with air bags to protect occupants—air bags alone are not enough to keep you safe if you're in a motor vehicle crash.
In the past 10 years, more than 2,000 unbuckled drivers and passengers died in New Jersey alone.
In the past 10 years, about 700 unbuckled drivers and passengers were thrown out of their vehicles during accidents and killed, not unlike the infant in the recent Hackettstown crash.
If you or a loved one have been injured in a motor vehicle accident, contact an injury attorney today to discuss your case.