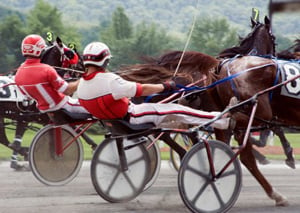 Dangerous Sports Accident in Pennsylvania
A harness racing accident which occurred at Harrah's Philadelphia racetrack in Chester, Pennsylvania has left a Jersey City driver with potentially catastrophic
 injuries, according to an article in NJ.com. The crash occurred at Harrah's Philadelphia in Chester, Pennsylvania. The driver was "thrown into the air after a collision involving four horses and their drivers," according to a story in Philadelphia's local ABC News. Subsequently, the driver was trampled
and severely injured as a result. He "underwent surgery for brain trauma and multiple fractures," reported NJ.com. Fortunately, the driver survived the intricate surgery, but his injuries were described as catastrophic and he remains in critical condition.
Harness racing is a "worldwide sport" in which a particular breed of horses race on a track while pulling a driver who is positioned in a cart behind the horse, according to ESPN. The recent accident raises questions about catastrophic injuries and their prevalence in different sports accidents.
Catastrophic Injury Information and Prevention
According to the Centers for Disease Control and Prevention (CDC), catastrophic injuries often occur in sports and in work-related accidents.  A catastrophic injury is one that is severe and permanent.  Often, catastrophic injuries can include traumatic brain injuries, spinal cord injuries, and the loss of physical movement or sensory perception.  Typically, a catastrophic injury causes a victim to become permanently disabled.
Many victims of catastrophic injuries put themselves at risk just by virtue of their professions.  For example, the CDC recognizes that certain sports, such as horse racing and professional football, carry additional risks for catastrophic injury.  In addition, the CDC reports that catastrophic incidents occur more frequently in some workplaces than in others.  For example, construction workers and manufacturing employees may be at a particularly heightened risk.
How can you prevent catastrophic injuries from occurring?  The Mayo Clinic provides tips for reducing your risk of brain damage and spinal cord injuries:
• Always Drive Safely:
This means paying attention if you're behind the wheel and avoiding distractions. It also means wearing your seat belt and ensuring that your passengers are properly belted. One should also note that it is important to have a vehicle with functioning airbags.
• Wear a Bike Helmet:
If you're on a bicycle, always wear your helmet even if it is not required by state law. In Pennsylvania, New Jersey, and New York, most adult bicyclists are not required to have a helmet, but wearing one can reduce your risk of a catastrophic injury.
• Prevent Falls:
This means using a step stool and handrails, and placing "nonslip" mats in slippery areas, such as in the shower or on a tile floor. For young children, it's important to make sure stairs and windows are off limits.
• Take Safety Precautions During Sports:
Wear helmets and safety headgear, and avoid sliding head-first or tackling with your head. Where applicable, always have a spotter, such as in gymnastics or weightlifting.
Catastrophic injuries victims may require care for the rest of their lives. If you or a loved one recently suffered a catastrophic injury, you should speak to a personal injury lawyer to determine your rights.