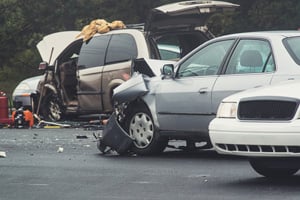 'T-Bone' Car Accident Flips Ambulance, Injures Passengers
How dangerous are side-impact car accidents? According to a recent news report from NBC Philadelphia, a minivan carrying a "family of five slammed into an ambulance" earlier this week. At the time, the Philadelphia Fire Department medic unit had been rushing a patient to the hospital. The traffic collision caused the ambulance to flip on its side just before 8:00 a.m. in the Nicetown section of the city.
Early reports indicate that the minivan slammed into the side of the ambulance at an intersection, creating a 'T-Bone' impact. At the time of the accident, two adults and three children had been inside the minivan. While officials cannot yet say for certain what caused the accident, they do know that the minivan had substantial front-end damage, while the side of the ambulance took the brunt of the impact.
Learning More About Side-Impact Auto Collisions
According to the Insurance Institute for Highway Safety (IIHS), "side crashes account for about a quarter of passenger vehicle occupant deaths in the United States." When automobiles are tested for crashworthiness, the side of the vehicle is one of five tests that help the IIHS to determine whether occupants can withstand the force of a collision. When it comes to side-impact crashes, however, the IIHS explains that protecting passengers is "challenging because the sides of vehicles have relatively little space to absorb energy and shield occupants, unlike the fronts and rears, which have substantial crumple zones."
Acknowledging the limitations of side-impact protection—largely illuminated by the IIHS's tests—various automakers have begun paying more attention to side protection. For example, side airbags can help to prevent serious personal injuries in side-impact crashes, while the very structures of the sides of the vehicles can be strengthened too. Now, side airbags are standard, but the IIHS emphasizes that they need to come in conjunction with strengthened automobile sides—one or the other is not enough to protect an occupant in a side-impact crash.
Deaths connected to front impact crashes have declined in recent years, according to a report from Safety 1st, but side impact crashes have increased by 20 percent. The following information sheds more light on side impact collisions:
About 25 percent of auto accidents involving children are side-impact crashes, and they are "by far the deadliest type of collision for children."
Between 1981 and 2001, side-impact fatalities rose dramatically, from 31 percent of all auto accident fatalities to 51 percent. Commentators attribute the increase to higher speeds of travel and the number of SUVs on the roads.
Side airbags reduce the likelihood of an auto accident fatality by about 37 percent.
If you or someone you love sustained injuries in a side-impact collision, you should discuss your case with an experienced car accident lawyer to determine your rights.