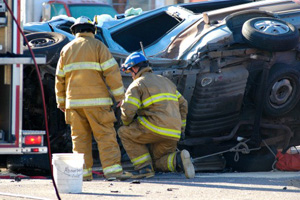 Near dawn on Sunday, March 10, 2013, a teenage driver and five other teens were killed when their Honda Passport SUV went off the roadway and into a cold, swampy pond in northeast Ohio, according to reports by USA Today.  The car sank with five of the victims trapped inside; one other teen was thrown from the car and died, while two other teens walked away from the accident with only minor injuries.
What caused the accident?
The accident is still under investigation.  So far, investigators reported that excessive speed in a 35 mile per hour zone was a factor. One survivor reported that the driver, age 19, was speeding and driving erratically before she hit the guardrail. The driver apparently did not have a valid driver's license, and the passengers allegedly were not wearing seat belts.  The car struck a guardrail on what is known as "Dead Man's Curve," and then flipped over into the cold, swampy pond.
Who is responsible when teens have accidents?
a) The teen driver may be responsible.  In the Ohio accident, the driver was nineteen years old and an adult under Ohio law, which sets eighteen as the age of majority.
b) The car owner may also be responsible for the accident, particularly if the owner gave the teen permission to drive the car.  In the Ohio case, the car's owner reported the car stolen the day after the accident.  The owner reportedly did not know any of the teens in the car, but further investigation is needed to learn how the teens got access to the car.
c) The car manufacturer may also be liable if the accident was caused by the car's design.
d) The state or local government may also be liable if the road's design contributed to the accident.
Are SUVs more prone to Rollovers?
As explained by Consumer Reports, although any car could potentially rollover, SUV accidents are especially dangerous because SUVs are particularly prone to rollovers.  An SUV's height and narrow width give them a higher center of gravity, making them "more top-heavy."  While rollovers happen only in about three out of one hundred serious crashes, they result in about thirty of every one hundred people killed in car accidents.  Significantly, as in the Ohio accident, most of those who died in rollover accidents were not wearing their seat belts at the time of the accident.
Overloading an SUV can also make it more likely to rollover.  In the Ohio accident, the car was overloaded with passengers.  While the Honda Passport is built for five passengers, eight teens piled into the car.
If you have been injured in an accident caused by a teen driver or an SUV, contact us today to discuss your options.