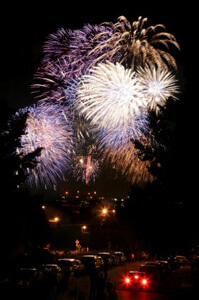 Cookouts, sparklers, patriotic music, pool parties, summer cocktails, smiles, laughter, and good cheer–The Fourth of July is a high water mark of the summer season.  This year Independence Day falls on a Thursday, offering a mid-week respite from the usual work week.  Many will be taking Friday the 5th off work as well, opening up a four-day weekend that will undoubtedly be filled with parties, barbeques, and other fun summer events.
Yet, for all its positives, the 4th of July holiday has a dubious distinction: It is the deadliest weekend of the year for car accidents.  The National Highway Traffic Safety Administration (NHTSA) tracks car accidents and fatality rates every year.  NHTSA has consistent records dating back over twenty five years.  Those records show unequivocally that holiday weekends are always the deadliest–and the 4th of July repeatedly tops the list.
According to NHTSA, over the most recent three-day Independence Day weekend, there were nearly 500 fatal accidents nationwide.  Keep in mind that this compares with the second-deadliest holiday, New Year's Weekend which usually has around 420 fatal accidents measured over a four-day period.  When looking only at the deadliest individual days of the year, July 4th is almost always number one followed closely by July 3rd.
In other words, it is not an exaggeration to suggest that this weekend is the most dangerous time to be on the road all year.
So what can you do to enjoy the Independence Day celebration without becoming a statistic?  Here are a few basic tips from our car accident team:
Follow These Tips:
1. Have a designated driver.  NHTSA's data suggests that about 43% of all fatal 4th of July accidents are alcohol related.
2. Wear a seatbelt, and ensure that children are in properly fitted child safety seats.
3. Avoid traveling at night, if possible.  Far more accidents occur in the evening and on two-lane roads.
4. Follow the rules of the road as closely as possible.  This is obviously good advice on any day, but it is particularly important on holiday weekends when more cars will be out and about.  Making only a rolling stop at a stop sign or rushing to beat a yellow light are small errors that can prove fatal.
5.  Be on the lookout for pedestrians and animals in the road.  Many will leave their cars and walk to different areas to enjoy fireworks displays.  In addition, many pets are notoriously frightened by fireworks, often resulting in them fleeing onto roads.  It is perhaps no surprise that this weekend is also the busiest of the year for animal shelters.
Unfortunately, even with the best preventions there is a chance that you or a loved one may be caught in a 4th of July weekend car accident.  If that happens the first thing to do is seek out medical aid.  That is obvious if there are serious injuries, but it is also important even if you are not immediately aware of injury.  It is not uncommon to have adrenaline take over in the aftermath of an accident, masking an injury.
After dealing with the immediate medical needs, it is then critical to seek out legal aid.  You may be inundated with calls from those involved in the accident or insurance companies.  Before dealing with them, speak with a car accident lawyer  to ensure you take the appropriate steps to protect your rights.  The car accident team at The Rothenberg Law Firm LLP can help–feel free to contact us at any time.