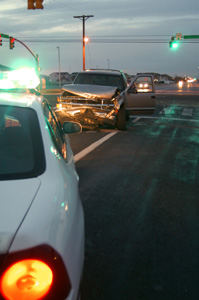 Recent Crash Involving an SUV Raises Questions About Vehicle Safety
According to a recent report from NBC Philadelphia, an unexpected car accident involving a sport utility vehicle (SUV) left an unoccupied car nearly totaled and the driver of the SUV with personal injuries. How did the SUV accident happen and what was strange about it? Witnesses indicated that a gold SUV flew over a set of power lines and crash-landed on another vehicle that had been parked in a driveway at a home in Northeast Philadelphia.
In the course of the auto accident, the SUV flipped the parked vehicle and then landed on top of the flipped car. Although the collision remains under investigations, early indications suggest that the SUV went around a corner and then lost control.
How Dangerous Are SUVs?
Over a decade ago, SUVs were extremely popular vehicles. However, they tended to come with the reputation of being somewhat unsafe, particularly when it came to rollover accidents on the highway. SUV's have a higher center of gravity which makes them more prone to rollover. Therefore, when shopping for an SUV- make sure that your vehicle comes with Electronic Stability Control (ESC), which substantially reduces the risk of a rollover. ESC only became a requirement for all SUV's in 2012- so if you own or are looking to own an SUV manufactured before 2012, pay attention to this safety feature.
With the new safety requirements for SUV's, a Consumer Reports analysis of SUV safety, indicates that SUVs tend to look like safe vehicles when it comes to crash-test ratings.
Specifically:
In head-on crashes involving one car and one SUV, the car driver has a 7.6 greater chance of sustaining fatal injuries than does the driver of the SUV.
Even in head-on crashes between a car that has received a better front-crash rating than the SUV that it is up against, the driver of the car is still 4.5 times more likely to suffer a fatal injury than is the driver of the SUV.
Front-crash test ratings suggest that the type of vehicle—the SUV—is a better safety indicator than the front-crash test rating number. Yet as Consumer Reports points out, "front-crash scores simulate striking a same-sized vehicle." They do not take into account an SUV accident with a bus or a large truck. Furthermore, the higher center of gravity of an SUV still makes it more likely to rollover than a car that is lower to the ground. So how do you go about selecting the safest car on all accounts?
Buy a vehicle with up-to-date safety features;
Select an automobile that has received strong ratings in IIHS;
Choose a vehicle that has performed well in dynamic tests like accident avoidance.