One of the most high-profile automotive recalls in recent memory involved Firestone tires.  The recall was first ordered over a decade ago, but the lessons from the situation remain a critical reminder of the way that defective tires can cause serious harm to unsuspecting travelers. The Firestone recall actually spurred the creation of National Tire Safety Week, which continues to this day.  Click here, for more information on the annual event.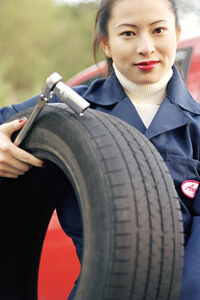 The Original Recall
On August 9, 2000, Bridgestone Firestone North American Tire, LLC announced a tire recall of nearly 7,000,000:
Firestone ATX
Firestone ATXII
Wilderness AT tires
These tires were linked to more than 200 deaths and 700 injuries in theUnited States. Many of these deaths and injuries involved rollovers of Ford Explorers, which used the recalled tires as standard equipment. These faulty tires are prone to blowout due to tread separation. Tread separation results from weak adhesion between the different components of the tires caused by poor manufacturing practices. Blown-out tires cause drivers to lose control, leading to rollovers, crashes, and other devastating consequences.
Bridgestone/Firestone (BF) claims that the design of the Explorer is a factor in the tire failures, while Ford insists that the Explorer is safe and BF's tires are to blame. BF believes to have identified and remedied the problem with the recall. The National Highway Traffic Safety Administration (NHTSA), however, disagrees. After completing a year-long investigation into the safety and performance of Bridgestone/Firestone tires not included in the recall, the NHTSA now recommends that the company recall additional tires. It appears similar design problems exist for other BF products, including certain steel-belted small truck tires.
Legal Developments 
Many of the initial legal claims related to these tires have since been settled.  However, the risks posed by defective tires remains.  For example, in April of 2012, Michelin recalled 77,000 tires for safety problems accord to the National Highway Traffic Safety Administration.  The tires were produced from 2005 to 2011. The recall was spurred by concerns that they could deflate rapidly, leading to increased crash risk.
Obtaining a Tire Recall Lawyer
If you or a loved one has suffered injury from a defective Bridgestone/Firestone tire, contact a tire recall lawyer at The Rothenberg Law Firm LLP at 1-800-624-8888 or submit an InjuryLawyer.com online case evaluation. The initial consultation is FREE of charge, and if we agree to handle your case, we will work on a contingency fee basis, which means we get paid for our services only if there is a monetary recovery of funds.
More often than not, a lawsuit must be filed before an applicable expiration date, known as the Statute of Limitations. Please call or contact us now to ensure that you do not waive your right to possible compensation for injuries suffered.