Defective Airbags Can Be Deadly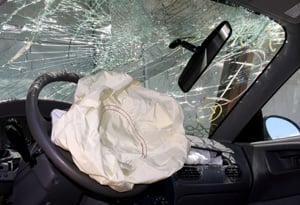 Airbags are meant to protect drivers and passengers from injuries during car crashes or catastrophic events. However, while properly functioning airbags help save lives, defective, dangerous, or malfunctioning airbags can cause catastrophic injuries or death. Defective airbags that rupture, explode, deploy too fast, or do not deploy at all can cause severe harm to the occupants of the vehicle.  A lawyer that specializes in defective airbags and automobile-product defect litigation can help when your vehicle's airbags have not performed the way they were intended to, causing injury.
If you were injured by an airbag defect in an auto accident, or were injured in an accident where the airbag didn't deploy, you may be entitled to compensation from the vehicle manufacturer, the airbag manufacturer, or another responsible party.
Common malfunctions of airbags in motor vehicles include:  
Ruptures in the Airbag Inflator (ie.

Takata Airbag Defects

)

Non-deployment of an airbag during a high-speed collision;

Low-speed deployment of an airbag during a collision;

Airbag deployment during a low-speed or non-frontal impact;

Overly aggressive deployment of an airbag or explosion;

Lack of airbag systems;
All of these harmful airbag events can lead to devastating injuries that could have been prevented if the airbag functioned properly or if there was an airbag at all. If you think you have been a victim of an airbag malfunction, you should contact an auto product liability attorney. 
Related Link: The Dangers of Seat Belt Defects
Some evidence of airbag failure includes: 
Airbag Inflator Rupture

High-speed impact with no airbag deployment

Low-speed or non-frontal impact with airbag deployment

Head injury where others walk away

Localized injury (e.g., facial injury)
Airbag Non-Deployment Caused by Defective Passenger-Presence Sensing and Crash Detection Systems
Defective components in a vehicle's crash-detection system, such as defective passenger-presence sensing systems, can cause airbags not to deploy during high-speed collisions, resulting in injuries that can be catastrophic and deadly. If a passenger-presence sensor does not detect a person in the seat when there clearly is one, the crash detection system will not activate the airbag upon collision. Non-deployment of an airbag during a high-speed frontal collision can lead to catastrophic injuries or death. 
For example, a driver's airbag could receive the signal to deploy in both the first and second stages of a car's crash-detection system, but if a passenger is not detected in the seat, the airbag will ultimately not deploy and protect the passenger during the crash. 
Manufacturers Might Not Always Issue Appropriate Product Recalls On All Vehicles
Unfortunately, manufacturers do not always issue recalls on all vehicles that can harm or injure drivers and passengers, or it can take them years to do so after deadly events are reported. In addition, automobile manufacturers often know about air bag defects in their cars but do not take the proper steps to notify consumers or fix the problem.  Knowingly ignoring the defects of a harmful car product significantly increases the risk of a person sustaining serious injuries in a crash. People who have been hurt by this misconduct are often able to hold companies accountable for their failure to prioritize product safety.
In the largest recall in automobile history, the current Takata Airbag Recall provides an example of how manufacturers may not issue timely or appropriate recalls, even when their defective car products are endangering lives. Starting in 2001, hundreds of reports show Takata airbag inflators exploding like bombs, expelling shards of metal that penetrated through airbags and hit vehicle occupants at high speeds. The catastrophic effects of these explosive Takata airbag inflators range from numerous death to catastrophic injuries, including traumatic brain injuries and quadriplegia. Nearly 20 years later, these Takata airbags continue to cause harm. Despite recently mandated nationwide recalls, these airbags may still be found in vehicles today. If you have been hurt by an explosive Takata airbag inflator, call an auto product defect liability lawyer.
In another example, on July 5, 2016, General Motors issued a recall on certain 2009-2010 Chevrolet Impala vehicles because the passenger presence sensory system was failing to recognize the passenger in the seat that was occupied, disabling the airbags. However, the company did not include the 2012 model year Chevrolet Impala in the recall, even though it had the same defects.   
Past Airbag Recalls 
There have been several significant airbag recalls. Even airbags that have been recalled years ago may still be in your vehicle. Below is a list of airbag recalls. To learn more about these recalls and what you should do if your vehicle is included in one of these recalls, click on the following links for information:
Honda, Nissan, Mazda Airbag Recall
Product liability issues often invoke complex legal issues.  Fortunately, legal professionals are working to ensure that these manufacturers compensate victims that were hurt as a result of faulty airbags and other defects.
Legal Help with Faulty Airbags
If you think you or a loved one might have been harmed as a result of a faulty air bag, it is important to reach out to an airbag lawyer to learn about your options.  The Rothenberg Law Firm LLP can provide the experienced legal help you need. The firm can be reached at 1-800-624-8888 or you can fill out a free online case evaluation form. The initial consultation is always FREE. If the case is pursued there is no legal fee unless we are successful in getting you money.
Timing is important, because statutes of limitations affect how long you have to file a claim.