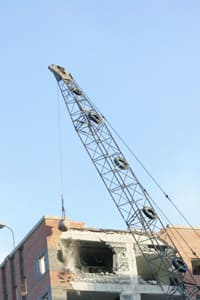 Construction Boom Falls to Ground and Strikes Nearby Vehicle
Whether you are working at a construction site or simply driving by an area in which construction is underway, it is important to be aware of your surroundings and the risks of personal injury. As a recent report from ABC 7 News emphasizes, a falling object at such a site can cause serious damage and construction accident injuries.
Late last month, a construction vehicle attempted to enter a construction site in Midtown Manhattan, but it flipped backward, causing a potentially deadly accident. A piece of equipment attached to the vehicle ended up striking a nearby NYPD van. Although no injuries were reported (and nobody was in the van at the time the boom struck it), the details of the accident have New Yorkers concerned about their safety on and around construction sites. Over the last several years, construction projects have been on the rise in Manhattan and other boroughs. While new projects are a good thing in certain respects, they also come with greater personal injury risks for New Yorkers.
How did the recent construction site accident happen? A construction vehicle had been transporting a Casa Grande, which is "a massive hydraulic drill that drills holes deep into the ground." It was being transported to the construction site for a 38-story Midtown luxury hotel. Other workers at the site indicated that the driver "was attempting to maneuver the drill over the sidewalk into the construction site." Based on early views of surveillance video, it appears as though the sidewalk around the site was not closed. If this is true, the construction company may be in violation of safety regulations.
Although investigators are not yet certain how the boom fell onto the truck, the news report suggests that the driver "may have partially raised the boom which could have shifted the center of gravity, causing it to topple over on top of the NYPD vehicle." The general contractor, Flint Lock, has received a number of safety violations from the Occupational Safety & Health Administration (OSHA) in the last few years. Most notably, OSHA fined Flint Lock $250,000 in 2013 for failing to provide fall protection for employees at a hotel construction site.
Construction Accidents and Struck-By Violations
Working in the construction industry involves serious job-related hazards. However, both employers and construction workers can take steps to prevent accidents and injuries. To lower the rate of workplace injuries at construction sites, it is important to understand how a majority of serious and fatal accidents occur. According to a report from The Center for Construction Research and Training, between 1992-2010, the following represented the primary causes of construction fatalities:
Falls to a lower level;
Contact with electrical current;
Highway incidents; and
Being struck by objects.
OSHA explains that construction workers who find themselves in the following conditions are at risk of being struck by a falling object:
Working beneath a crane;
Working on scaffolds; and
Engaging in construction anywhere that overhead work is being performed.
What kinds of injuries typically occur from struck-by injuries? OSHA cites the following:
Abrasions;
Concussions and other traumatic brain injuries (TBIs);
Blindness; and
Death.
To prevent struck-by injuries, OSHA emphasizes that construction workers should do the following:
Always wear a hardhat;
Stack building materials to prevent them from sliding, falling, or collapsing; and
Use protective measures, including toe boards and debris nets.
If you or someone you love recently suffered injuries in a construction accident, contact an experienced New York construction accident lawyer to learn more about your rights.