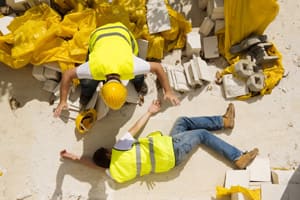 Construction Fatalities and OSHA Safety Reminder
A number of recent deaths in the construction industry has prompted the Occupational Safety and Health Administration (OSHA) to remind employers and employees about important safety regulations. According to OSHA's news release, construction accidents and injuries happen much too frequently, and demolition sites pose particular dangers. In response to increased incidents of fatalities, OSHA has launched an updated version of its website that provides new training resources and safety information for the construction demolition industry.
Last year, a four-story Philadelphia building that had been undergoing demolition collapsed, killing 6 people and injuring 14 others. Less than a year later, a 25-year old construction worker sustained fatal injuries after falling concrete pieces struck and killed him at a shopping mall renovation site. Furthermore, this summer a worker demolishing a New Jersey Blockbuster Video building was trapped and killed when the last standing wall of the building under demolition collapsed on top of him. According to OSHA officials, all of these fatal injuries could have been prevented.
According to Dr. David Michaels, the Assistant Secretary of Labor for the Occupational Safety and Health Administration, "demolition workers face many hazards and their lives should not be sacrificed because of deliberate neglect of demolition fundamentals." Michaels emphasized that the employer bears the safety burden in these projects, explaining that "employers must ensure that all workers involved in a demolition project are fully aware of hazards and safety precautions before work begins and as it progresses."
The updated OSHA website aims to prevent demolition accidents and to raise awareness about serious injuries when they do occur. In addition to providing new tools for education and prevention, the updated site also provides a platform for sharing stories about demolition safety.
Demolition Injury Statistics and Prevention
OSHA records indicate that the administration issued about 1,000 citations between the years 2009 and 2013 for violations of construction demolition standards. What is the most common problem? According to OSHA, citations most often were issued for "failure to conduct an engineering survey to determine the condition of the structure prior to demolition." Such a survey would be able to determine the likelihood of building collapse and injury.
According to the administration, demolition work involves many hazards associated with other construction activities. At the same time, however, demolition poses additional hazards to employees, including those associated with the following:
Lead-based paint;
Sharp and/or protruding objects; and
Materials containing asbestos.
Moreover, construction demolition also poses serious risks of being struck by objects and falling from heights. As such, OSHA provides the following safety tips for demolition employers and workers:
Always brace or shore up both the walls and floors of structures that have damage. Without this kind of attention, employees can sustain serious fall-related injuries and can become trapped by demolished building materials.
Inspect all stairways, passageways, and ladders before use.
Use lighting to illuminate all stairways and passages.
Always inspect your personal protective equipment before using it, and be sure that you are wearing the proper protective equipment for the task you are undertaking.
Ensure that floor openings do not cover more than 25 percent of the total area of flooring.
Always begin demolition of exterior walls and floors at the top of the structure and move downward.
Do not permit employees to work in an area where a structural collapse hazard exists. The hazard must be corrected before employees can continue work on the construction demolishment project.
Legal Recourse:
Despite the vast safety measures OSHA recommends, thousands of construction workers are injured every year. If you have been injured as a result of an unsafe construction environment, you should contact an experienced construction accident attorney to explore your rights. You may be eligible to file a claim for workers compensation and/or a third party personal injury claim against a negligent party.