Compensatory damages are meant to offset an injury sustained by an individual. "Actual" damages are those which reimburse an individual for out-of-pocket expenses. These include monetary awards for medical expenses, property damage, and loss of income. "General" damages may also be awarded for pain and suffering, mental anguish, loss of consortium, and lost opportunity for future enjoyment of life.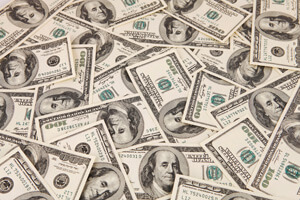 Actual Damages
1.  Medical Expenses
Serious injuries incur hefty medical bills. Therefore, an injured person's medical expenses constitute a significant portion of the compensatory damages to which he or she is entitled. Logic dictates that the greater the amount of money owed for physician's services, the greater the damages sought. Future medical costs must also be factored into compensatory damages, especially in the case of long-term injuries requiring significant or ongoing treatment. An experienced personal injury attorney is best able to find the necessary experts to clearly determine the value of your claim, and establish the need for future medical treatment.
2.  Property Damage
The plaintiff in a personal injury case may also be awarded compensatory damages for the replacement or repair of any property harmed in an accident. Automobile damage, for example, is a common occurrence in personal injury cases. In addition to the costs of repair and loss of value, a plaintiff may be able to receive compensation for damages to property contained within the car.  Reimbursement for obtaining substitute transportation during the repair period may also factor into compensatory damages.
The valuation of property damage is a complicated process that may require the opinion of an expert appraiser. The appraiser will determine whether the property has retained any salvage or if it is totaled (completely without value). If the property is totaled, damages can be requested in the amount of its fair market value prior to the accident. If repair is an option, compensation for loss of use by the owner can be added to the cost of the repair itself. There are occasions when the cost to repair the property exceeds its replacement value but damages are still limited to the pre-accident fair market value of the property . Other elements also factored into the property damage equation are interest and loss of profit. This is particularly the case where the property is utilized in one's employment.
3.  Loss of Income
The injury sustained by the plaintiff can often prevent him or her from working. In these situations, compensatory damages can be sought for the amount of money normally earned during that time period, known as "lost wages". The injured person can also claim lost wages for any absences due to medical treatment of the injury. An injury severe enough to prevent a person from working ever again may allow for compensatory damages covering the loss of one's future earnings.
Accidents sometimes result in death. In some cases, family members may choose to sue for the lost income the victim would have earned. Courts factor the victim's age and salary at the time of death to calculate the amount of compensatory damages owed for death. A younger person has a longer earning capacity and, therefore, a greater loss of future earnings in the event of an untimely passing.
General Damages
1.  Pain and Suffering
The most personal element of the accident for the victim is the amount of physical pain and suffering which he must endure. Every individual's tolerance for pain is distinct, making quantification of suffering problematic.  Certain factors, however, can be quantified accurately enough to document a person's level of discomfort.  For example, the amount of medication the injured person required, types and length of treatments necessary, and the duration of the recovery period are all examples of these measures.
An experienced personal injury attorney will be able to collect information about such measures from the medical practitioners involved in the case. In addition, the injured person's spouse and/or nearest friends and relatives will be interviewed. These interviews are used to gauge the extent of change in a victim's quality of life by contrasting pre-accident quality of life with post-accident quality of life. An integral part of a victim's case is to bring forward any lost or reduced life enjoyment due to the accident, and have these claims supported by witness testimony and evidence.
The amount compensatory damages increases the more severe, painful, or longer the impairment suffered by the victim. If the injury is indeed permanently disabling, experienced counsel will seek out expert testimony to support the victim's claim.
2.  Mental Anguish and Emotional Distress
While mental anguish and emotional distress often exist together with pain and suffering, they refer to mental reactions to trauma of and from the actual event. Common symptoms of mental anguish include terror, shock, apprehension, confusion, humiliation, and sorrow. In an effort to limit personal injury lawsuits based solely upon mental anguish and emotional distress, states have instituted strict guidelines like the "zone of danger" test. The zone of danger test considers the plaintiff's physical proximity to the accident. Another limit placed upon such cases is the "physical manifestation rule." This rule requires the emotional distress experienced by the plaintiff be exhibited by physical reactions such as depression, intense anxiety, or loss of appetite and weight.
3.  Loss of Consortium
Another type of compensatory damage that can be recovered in the case of severe and permanently disabling injuries is loss of consortium. Loss of consortium refers to the inability of the victim to engage in companionship-related activities with their spouse or loved one at a level they once enjoyed. Compensatory damages awarded for loss of consortium are generally less than other types of damages. Loss of consortium compensatory damages can, however, be significant in tragic accidents that lead to severe impairment such as paraplegia.
4.  Lost Opportunity
 Lost opportunity damages are sometimes recoverable in addition to the damages sought for lost wages and loss of future earnings. These refer to a business opportunity that has been eliminated because of the accident. It is imperative that the presentation of a lost opportunity claim is supported clearly and convincingly. If it is only supported by conjecture, the credibility of the claim and the case as a whole could be damaged. Damaged credibility could ultimately cause a jury to reject the more substantial compensatory damages sought by the plaintiff.
Pursuing Compensatory Damages
If you or a loved one has suffered an injury, you may be entitled to compensatory damages. Call The Rothenberg Law Firm LLP at 1-800-624-8888 or submit an online questionnaire to speak with and experienced personal injury attorney. The initial consultation is FREE of charge. If we agree to handle your case, we will work on a contingency fee basis- we only get paid for our services if there is a monetary recovery of funds.
A lawsuit must often be filed before an impending expiration date, known as a Statute of Limitations. It is essential, therefore, to please call right away and ensure you do not waive your right to possible compensation.