Catastrophic injury refers to a devastating and life-changing injury that permanently affects one's ability to work and significantly diminishes one's quality of life. Catastrophic Injury victims must often grapple with a permanent disability that can inhibit their ability to see or hear, walk without pain or think clearly - serious injuries that usually require long-term medical treatment.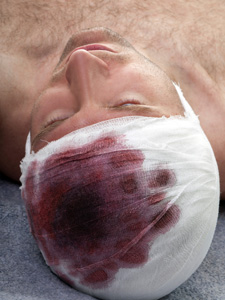 At the Rothenberg Law Firm LLP, we understand the way a catastrophic injury can damage the quality of one's life as well as place major emotional and financial burdens on both accident victims and their loved ones and damage. A catastrophic injury forces family members to carry the burden of every detail of one's daily life such as arranging medical care, physical therapy appointments, and managing medical expenses all at once. 
If you or a loved one has suffered a catastrophic injury because of the negligence of another person or company, the negligent party responsible for your injury should be held accountable and compensate you for your injuries. It is critically important to seek legal advice from a personal injury law firm that can both skillfully navigate your personal injury lawsuit and approach the attorney-client relationship with care and sensitivity. Our personal injury attorneys are here to help you with a free case review and consultation and will do everything in their power to ensure you receive fair compensation.
Causes of Catastrophic Injury Cases
Catastrophic injuries can result from many different situations, including:
Motor Vehicle Accidents

- Auto accidents of all kinds, including car accidents, truck accidents, and motorcycle accidents, often cause severe injuries. 

Workplace Accidents - 

Construction accidents

are very common, causing a significant number of catastrophic injuries in the United States each year.

Slip / Trip and Fall -

Falls can occur both inside and outside of a building, and will sometimes result in a permanent disability.

Medical Malpractice -

Misdiagnosis, surgical errors, or negligence by medical professionals can lead to catastrophic injury.

Toxic Exposure

- exposure to toxic chemicals such as

asbestos

or

lead paint

can, over time, cause a life-altering illness or wrongful death. 

Dangerous Drugs

- ingesting a

dangerous prescription drug

can lead to catastrophic injury

Defective Products

- Manufacturing, design, and warning/labeling defects can lead to serious accidents and catastrophic injuries.

Explosions

- Explosion accidents occur most often at refineries and oilfields.  
Types of Catastrophic Injuries
Catastrophic injuries have a profound effect on both the injured person and his or her family. Victims who become permanently disabled as a result of a catastrophic injury may face a shortened life span and a lifetime of pain and suffering.
The bodily damage resulting from a catastrophic injury can include:
Spinal Cord Injuries and Quadriplegia
Amputations 
Organ Damage 
Severe Burns and Related Burn Injuries
Although some catastrophic injuries are immediately obvious, other injuries will not become apparent for months or even years after an accident or exposure. In many cases, victims will only experience significant pain and debilitation many years after the initial injury.
Call a Catastrophic Injury Attorney for a Free Consultation about your Personal Injury Case
If you or someone you love has sustained a catastrophic injury, it is critically important to speak with a catastrophic injury lawyer to discuss your personal injury claim. Don't wait to call; an experienced attorney will help you communicate with your insurance company to ensure that any conversations you have with an insurance adjuster will not be used against you to compromise your claim.
Contact the experienced personal injury lawyers at The Rothenberg Law Firm LLP by submitting a free case evaluation online at InjuryLawyer.com or by calling our phone number, 1-800-624-8888.  The initial consultation is FREE of charge. Our legal team works on a contingency fee basis; if we agree to handle your case, there are no legal fees unless we are successful in getting you money.   
Disclaimer
The content on this site is for general information purposes only and is not intended to offer legal or medical advice. You should not rely upon any material presented on this site as a substitute for legal, medical, or other professional advice.  If you have a specific question regarding a particular medical or legal issue, you should consult a healthcare or legal professional.