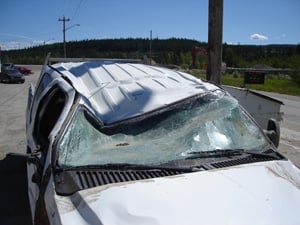 Poor design and/or manufacturing defects often lead to a vehicle lacking the necessary roof pillar strength to protect passengers during an accident or rollover.  One of the most common signs of a defect is injury caused by "roof crush."  Roof crush occurs from a caving roof pressing down on a passenger's head and neck, and tragically leads to serious injury or even death.
Automobile manufacturers have known for a long time that the current federal guidelines for roof strength are inadequate to prevent injury, but most still refuse to make their cars with roof support strong enough to protect against severe injury. In 2009 theU.S. set new crush resistance standards for car roofs.  The move was announced in 2009 by the Obama administration's Transportation Secretary Ray LaHood.  The new regulations require light cars (less than 6,000 pounds) roofs to be able to withstand three times the car weight.  Heavier cars (over 6,000 pounds) must be able to withstand 1.5 times the car's weight.
However, many critics pointed out that even the new standards were inadequate to prevent many rollover injury deaths. When roof crush is a significant contributing factor to injuries sustained during an accident, automobile manufacturers and companies are subject to legal action. If you or someone you know is injured in this way, it is vital to seek out an auto defect lawyer as soon as feasible.
Visit an Auto Defect Lawyer Following Roof Crush
If you or someone you know has sustained severe injury resulting from of roof crush caused by an accident or a rollover, you may qualify to bring a monetary claim against the car company. It is important to reach out to a legal professional to learn about your options. The Rothenberg Law Firm LLP can provide the experienced legal help you need.  The firm can be reached at 1-800-624-8888 or you can fill out a free online case evaluation form.
The initial consultation is always free. If we pursue your case, there is no legal fee unless we are successful in getting you money.
Timing is important, because statutes of limitation affect how long you have to file a claim.