In the United States, coronary artery diseases are the leading cause of death among men and women. The American Heart Association reports that about every 29 seconds, someone in the U.S. suffers from a coronary artery disease-related event. Every minute or so, someone dies. Clogged arteries can cause chest pain, sudden heart attacks, and strokes. One way to treat clogged arteries is through the use of heart stents. Every year, when hundreds of thousands of people need procedures to unclog their arteries, the procedure is usually performed with heart stents. It is important for patients to be informed about the risks of heart stent side effects.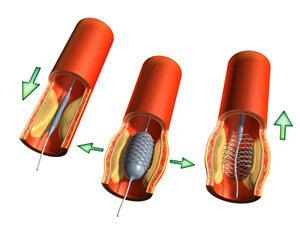 Once a heart stent is implanted into the heart's arteries, it becomes part of the artery itself, remaining there permanently. In November 2004, a Duke University Medical Center study showed heart stents do not improve the long-term survival rates of heart patients, even when drug-coated heart stents are used. These findings are especially alarming considering the existing controversy surrounding the safety of heart stents.
In 2012, researchers from the University of Missouri, University of Kansas Medical Center, Washington University, Harvard University, and the University of Colorado found that hundreds of millions of dollars continue to be spent unnecessarily on these stents.  In a study published in the journal Archives of Internal Medicine, the researchers found that $409 million on stents on "drug-coated" stents when far less costly and just as effective alternatives were available.
In April 2003, the subsidiary of Johnson & Johnson, Cordis Corporation, received FDA approval to market their Cypher drug-coated heart stents. In less than six months following FDA approval, at least 290 people had suffered life-threatening injuries and 60 people had died due to heart stent side effects. The FDA issued two major warnings about this product in 2003, yet heart stents remain on the market.
To this day patients continue to suffer similar problems with drug-coated stents.
Blood Clots
The serious injuries and deaths of patients with Cypher heart stents are largely caused by blood clots. Blood clots cling to the walls of blood vessels, possibly interfering with blood flow. When blood clots disturb blood flow to lungs, brain or heart, complications from failure of breath, stroke, or heart attack may result.
According to the National Heart Lung and Blood Institute, between 1-2 percent of patients who undergo stent surgery develop blood clots as a side effect. The Cordis-Johnson and Johnson heart stent, however, poses a high risk of stent thrombosis.  Caused when blood clots form on the surface of stents, stent thrombosis greatly increases the risk experiencing a heart attack.
Allergic Reactions to Heart Stents
Cypher heart stents have also been linked to severe allergic reactions. The FDA received at least 50 adverse drug reaction reports in 2003 alone. An October 2007 article in the British Journal of Dermatology, reported that stents containing gold and stents containing nickel cause allergic reactions in 37 and 19 percent of patients respectively. Possible allergic heart stent side effects are hives, breathing problems, throat or oral swelling, dizziness, confusion, loss of consciousness, and changes in heart rate. Particularly vulnerable patients may experience severe allergic reactions, called anaphylaxis, which can prove fatal if immediate medical care is not administered. In some cases, emergency surgery may even be required for removal of the stent from the artery.
Stent Recalls
Over the years there have been recalls of various heart stents that posed particularly high risk of injury for patients.
For example, in March 2004, Cordis competitor Boston Scientific received FDA approval to market Taxus drug-coated heart stents. Less than six months later, the company announced a partial recall of the Taxus heart stents due to safety concerns. As worries mounted, the Taxus heart stent recall grew to over 100,000 recalled heart stents. At least three people have died, and dozens more injured, because of serious Taxus heart stent side effects.
Despite the serious dangers associated with both brands of drug-coated heart stents, these dangerous pharmaceutical products remain on the market. Although stents provide a great benefit for those who suffer coronary artery disease, they can also cause serious and life-threatening side effects.
Obtaining Legal Assistance
If you or a loved one have suffered injury due to heart stent side effects, please contact The Rothenberg Law Firm LLP at 1-800-624-8888 or fill out the FREE online case evaluation form. You deserve to know more about your legal rights and options. You may be eligible to seek compensation for your losses and suffering.
Timing is important, because statutes of limitation affect how long you have to file a claim.