Hernia Mesh Patch Lawsuit
On January 24th, 2007, the Food and Drug Administration (FDA) made national front page news after announcing plans to expand the recall of Bard® Composix® Kugel® Mesh Patch (or BCK Patch) to include more product/lot numbers. We are accepting hernia patch lawsuit cases involving devices implanted for internal/abdominal damage caused by broken hernia-patch ring.
In 2008 the FDA reported that a federal judge expanded the scope of the hernia patch recall to all Darvol/Bard Marlex/Teflon patches—both with and without "memory rings."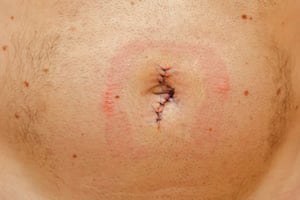 The Device
The BCK Patch is used to repair incisional (ventral) hernias caused by the thinning or stretching of scar tissue that forms after surgery. The patch is placed behind the hernia defect through a small incision. The patch is then held open by a "memory recoil ring" that allows the patch to be folded for insertion and later spring open and lay flat once in place.
The memory recoil ring that opens the BCK Patch can break from the stress of placing large-sized patches inside the abdomen. This can lead to bowel rupture (perforations) and/or abnormal openings between the intestines and other organs (intestinal fistula).
Problems
Symptoms of path-ring breakage can include:
Fever
Tenderness at the Incision Site
Painful Lumps or Bulges Where Surgery Occurred
Large Bulge at Site of Previous Injury
Bowel Perforation
Intestinal Fistula (hole)
Stabbing Abdominal Pain
Bard

/Davol Attempts to Limit Liability
The manufacturer Bard/Davol company may admit that its medical device is flawed and agree to reimburse patients for medical expenses related to replacing the hernia patch. However, they may also try to limit such reimbursement to cases where medical expenses are not covered by the patient's medical insurance or by Medicare. In most states, product liability extends further.
Where a hernia patch lawsuit may be necessary, The Rothenberg Law Firm LLP can help evaluate the merits of your case to recover additional compensation. Patients who received the Davol/Bard Kugel hernia patches may be entitled to:
compensation for any of their pain and suffering,
future medical care,
physical therapy,
lost wages and earnings, or
non-medical expenses incurred as a result of receiving the defective or recalled hernia patch.
Securing a Hernia Patch Lawyer
If you or any one you know has suffered serious injury as a result of the Bard® Composix® Kugel® Mesh Patch or have a recalled device implanted, call The Rothenberg Law Firm LLP immediately, at 1-800-624-8888 or submit an InjuryLawyer.com FREE online case evaluation.
You may qualify to bring a hernia patch lawsuit for money damages, medical treatment, and other benefits. The initial consultation is FREE of charge. We will work on a contingency fee basis if we agree to handle your case. This means that we get paid for our services only if we get you money.
Many of these cases are time-sensitive, so please act now to preserve your rights to just compensation