AlloDerm Hernia Mesh and Dangerous Medical Devices
Have you sustained injuries due to a defective medical device or surgical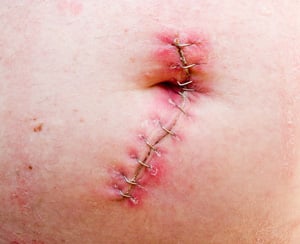 implant? Across the country, patients have suffered debilitating injuries after undergoing hernia surgery with AlloDerm mesh products. In particular, AlloDerm Regenerative Tissue Matrix, a product manufactured by LifeCell, has been implicated in serious injuries and preventable medical complications.
What is AlloDerm Mesh and How is it Used?
AlloDerm products, including the AlloDerm Tissue Matrix and AlloDerm Regenerative Tissue Matrix, are surgical implants made with cadaveric dermis, which is donated human cadaver skin. Before being implanted, the products undergo a processing procedure to remove donor cells.
Many of the AlloDerm mesh products come in the form of patches, and they are most frequently used for the following surgeries:
Abdominal wall reconstruction surgeries;
Hernia repair surgery; and
Other surgical reconstructions.
Because the mesh is made from cadaveric dermis, it is intended to "transition into host tissue," or the tissue of the surgical patient, to provide for a stronger surgical repair. However, this defective medical product has resulted in debilitating and life-threatening injuries to patients in its decades of use.
AlloDerm Hernia Mesh Product Background
LifeCell introduced AlloDerm back in the early 1990s and marketed it for use in dental surgery, reconstructive surgery, and skin grafts for burn injury patients. Eight years later, the manufacturer started to promote AlloDerm as a product that could be used in hernia repair surgeries and abdominal reconstruction surgeries.
However, soon after the product went into use for hernia and abdominal surgeries, patients reported adverse events. Specifically, patients reported that the mesh had unexpectedly stretched, expanded, sagged, and/or thinned out after implantation.
By 2005, LifeCell recalled some AlloDerm meshes, but only after about one-quarter of all patients who received the dangerous product for a hernia repair had reported serious complications. The voluntary recall affected AlloDerm, Repliform, and GraftJacket products.
Symptoms and Side Effects of AlloDerm Mesh Failure
How can you know if your AlloDerm mesh product failed? When surgeons use this product for hernia repairs, it can be linked to some of the following serious complications:
Pain in the abdomen;
Swelling, bruising, and inflammation;
Mesh tear, erosion, or perforation;
Hernia recurrence;
Problems with adhesion;
Abscesses;
Infection;
Organ damage;
Nerve damage;
Blood vessel damage; and
Reopening of the hernia.
Indeed, many patients who received AlloDerm hernia mesh have required additional surgery to correct the complications caused by this dangerous medical product. Specifically, some patients have undergone a mesh explant procedure to remove the AlloDerm graft, which can be a painful process.
According to the FDA's statistics on adverse events associated with this hernia mesh, nearly 10 percent of AlloDerm patients have required explant surgery following a serious complication. Moreover, based on data in a study from 2008, approximately 24 percent of all patients who received AlloDerm for a hernia repair experienced severe medical complications.
If you or a loved one received an AlloDerm hernia mesh implant and have suffered complications or other serious injuries, it is important to speak to an experienced defective product attorney. You may be eligible to file a claim for compensation. Timing is important if you have suffered an injury due to AlloDerm mesh because statutes of limitation affect how long you have to file a claim.