Defective Stryker Medical Devices Recalled
For many adults with hip problems, the Stryker Rejuvenate and the ABG II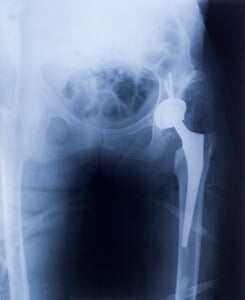 modular hip replacement implants promised greater mobility. The devices obtained FDA approval in 2009, and between 2009 and 2012 thousands of patients received these implants. However, on July 6, 2012, the manufacturer recalled these defective medical devices.
What is wrong with these hip replacement implants? Upon issuing its voluntary recall in 2012, Stryker Orthopaedics indicated that the products could prematurely deteriorate. When this happens, the devices can corrode, crack, and lead to serious personal injury. These devices are similar to other metal-on-metal ("MOM") hip implants, which can cause severe injuries to recipients.
Dangerous Stryker Metal-on-Metal Hip Implants
How can you know if you have been injured by a defective Stryker hip replacement implant? First, it is important to understand why metal-on-metal implants can be dangerous.
When metal-on-metal hip implants like the Rejuvenate and the ABG II deteriorate, the devices can discharge metal debris into the patient's blood stream. In other words, little pieces of metal flake off when the hip implant erodes, and those metal flakes end up in the recipient's bloodstream. This can produce a condition called metallosis, or metal poisoning, which is characterized by metal debris building up in the body's soft tissues. When a hip implant patients suffers from metal poisoning, he or she can have significant complications, including tissue, organ, and bone death.
Signs and Symptoms of a Defective Hip Implant
Thousands of Stryker hip implant recipients across the country have suffered from pain, swelling, metal poisoning, and tumors. Many of those patients have required dangerous revision surgeries, which can result in additional injuries.
What symptoms can you look for to determine whether your hip implant has failed?
Difficulty walking;
Pain near your hip or around your hip joint;
Unexplained infection; and
Swelling and inflammation.
How Much Can I Expect from My Stryker Hip Implant Lawsuit?
While thousands of Americans have sustained injuries from the defective Rejuvenate and ABG II modular hip replacement implants, each case is different and should be discussed with an experienced product liability attorney. As such, it is impossible to predict a precise amount of damages. However, medical device manufacturers have a duty to design, produce, and market products that do not cause harm to patients. When medical devices like the Stryker hip implants fail, patients deserve to be compensated for their injuries.
If you have been the recipient of a Stryker Rejuvenate or ANG II modular hip replacement implant, you may be eligible for compensatory damages, which can include compensation for the following:
Medical bills, which can include doctor's visits, hospital payments, and additional revision surgeries;
Prescription and other medication costs;
Lost earnings; and
Pain and suffering related to temporary or permanent disability, disfigurement, and loss of enjoyment of life.
Patients across the country have filed Stryker hip lawsuit claims for compensation. If you have been injured by a defective Stryker hip replacement implant, contact a defective medical device lawyer at The Rothenberg Law Firm today. Your initial consultation is free and our firm works on a contingency fee basis. This means we do not take any money unless and until we are successful in winning money for you.