Defective Biomet Medical Devices Cause Injury
Have you been injured by a defective Biomet M2A-Magnum hip implant? While metal-on-metal ("MOM") hip replacement implants initially promised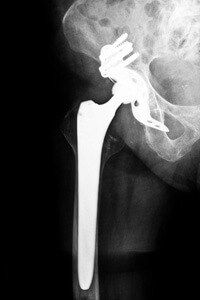 patients a hip replacement option with superior mobility and less pain than other models, many metal-on-metal hip implants have been recalled. The Biomet M2A-Magnum hip replacement implant was part of a larger line of medical devices released by the manufacturer back in 1996. Over the last decade, more than 100,000 people underwent surgery to receive these implants, and the M2A-Magnum was introduced to consumers in 2004. The device was marketed to last for at least fifteen years.
However, patients who received the M2A-Magnum and similar implants have suffered injuries related to the device's failure. Thousands of patients have required revision surgery only a few years after they received the implant. Given that the defective metal-on-metal hip implant can produce severe and life-threatening injuries, recipients of the device should seek help from an experienced attorney.
Biomet Metal-on-Metal Hip Implants
Like other hip implants that have been recalled, the Biomet device is a metal-on-metal hip replacement implant. What does this mean? The M2A-Magnum is made up primarily of two parts. The outside acetabular cup is made with a titanium alloy, and the inside ball is constructed with a cobalt chromium alloy. When these parts fail, they can crack and produce small metal flakes. These particles can be absorbed into the patient's blood stream and soft tissue, causing serious injuries. Other potentially defective Biomet devices include the Stanmore and the Exceed ABT.
When a metal-on-metal hip implant like the Biomet M2A-Magnum is defective, a patient can suffer the following injuries: tissue discoloration and necrosis, swelling, tumors, dislocation, and bone fractures when the implant loosens. Many implant recipients have also been diagnosed with metal poisoning. Metallosis, as it is called, occurs when the cobalt chromium particles from the defective device build up in the patient's soft tissue. Metallosis can result in severe pain, swelling, and the death of tissues and organs.
How Do I Know if My Biomet Hip Implant is Defective?
Many recipients of Biomet hip implants want to know how they can tell if they have received a defective medical device. While each patient may experience different symptoms related to a defective hip implant, signs of a problem with your medical device can include some of the following:
Swelling and inflammation near your hip;
Tissue damage;
Pain in your hip;
Pain in your groin;
Infection;
Difficulty walking or standing, or pain while doing these activities;
Suspected loosening of the prosthesis; and
Appearance of pseudo-tumors or unexplained tumors.
Can I Collect Any Money for My Injuries?
What type of compensation can you expect to receive for a defective Biomet hip replacement implant? Every case is different, but in general, you may be able to receive compensation for the following damages:
Medical bills, which can include doctor's visits, hospital payments, and additional revision surgeries;
Prescription and other medication costs;
Lost earnings; and
Pain and suffering related to temporary or permanent disability, disfigurement, and loss of enjoyment of life.
Defective medical devices like the Biomet M2A-Magnum can produce severe and life-threatening injuries. If you received a Biomet hip replacement implant and have suffered from pain, swelling, bone fractures, tumors, metal poisoning, and/or other related injuries, you should contact an experienced hip implant lawyer at The Rothenberg Law Firm to learn more about filing a claim for compensation. Your initial consultation is free and our firm works on a contingency fee basis. This means we do not take any money unless and until we are successful in winning money for you.