Dangerous Wright Hip Replacement Implants
For active adults with hip problems, a Wright hip replacement implant can seem like a solution. However, thousands of people who have received Wright hip implants have sustained serious personal injuries from these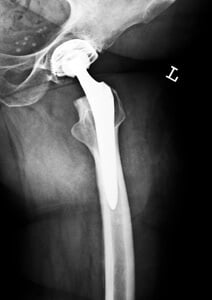 defective medical devices. Specifically, the Wright Medical Technology's Conserve hip implants and Profemur hip systems have been linked to injuries such as swelling, fractures, and even metal poisoning.
The Wright Conserve hip replacements were designed to reduce wear and tear and the dislocation rates associated with other hip implants. However, certain types of the Conserve implant devices, such as the Conserve Plus Total Hip Resurfacing System, have been linked to particularly high failure rates. Indeed, hundreds of patients have reported severe pain, high metal toxicity, and loosening of the device to the FDA.
Metal-on-Metal Design of Wright Conserve Hip Implants
Wright Conserve hip replacement systems use a metal-on-metal ("MOM") design that is similar to other recently recalled hip implants marketed to active adults. The metal-on-metal models were designed to provide people with greater mobility, but they have been linked to many serious injuries.
What is a metal-on-metal hip implant? Hip implants are made up of an acetabular cup and a femoral head, and both parts are constructed with cobalt chromium in the metal-on-metal varieties. These implants can loosen in the patient's body and ultimately fail. In addition, the design can increase the amount of friction between the femoral head and the acetabular cup, resulting in excessive wear to the implant and flaking metal. When metal flakes enter the bloodstream, a Wright hip implant can cause metal poisoning, which is also known as metallosis. According to the FDA, metallosis can be very serious and can result in some of the following injuries:
Organ injury, including to the heart, kidney, and thyroid;
Pain in the chest and shortness of breath;
Urinary problems;
Hearing problems;
Vision problems; and
Fatigue and weight gain.
Symptoms of a Defective Wright Hip Implant
For the thousands of people who have received metal-on-metal hip implants, it can be distressing to learn that many of these devices have caused serious injuries to patients.
What signs can you look for when determining whether your Wright hip implant has failed? Recipients of defective Wright hip replacements have identified some of the following symptoms of a defective implant:
Difficulty walking or standing up;
Severe pain in your hip or groin;
Swelling and inflammation;
Tissue damage or discoloration;
Dislocated hip or a hip fracture;
Presence of tumors; and
Unexplained noises from the hip area, like popping or crunching.
Can I Receive Money If I Received a Defective Wright Implant?
Victims of defective Wright hip replacement devices may be eligible for financial compensation for the following damages:
Medical bills, which can include doctor's visits, hospital payments, and additional revision surgeries;
Prescription and other medication costs;
Lost earnings; and
Pain and suffering related to temporary or permanent disability, disfigurement, and loss of enjoyment of life.
How Much Money is My Case Worth?
It is almost impossible to put a precise dollar amount on a single hip implant claim. Every case is evaluated separately based on the extent of damages caused by the implant. If you have been injured as a result of a defective hip implant, it is important to discuss your case with an experienced personal injury attorney at The Rothenberg Law Firm as soon as possible. Your initial consultation is free and our firm works on a contingency fee basis. This means we do not take any money unless and until we are successful in winning money for you.