Did you take Yaz or Yasmin? 
If you suspect that you may have been injured by the drug, it is important to talk with a legal professional as soon as possible.
If you have suffered from a blood clot, stroke or heart attack while taken YAZ, Yazmin or Ocella or if a loved one died from a related illness while taking YAZ, Yazmin or Ocella, you may be entitled to financial compensation for your injuries.  Contact us to discuss your ability to file a Yaz lawsuit.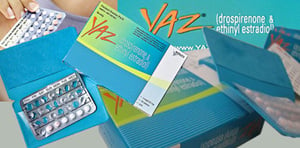 According to Drug Watch, hundreds of Yaz lawsuits have already been filed against Bayer pharmaceuticals—the manufacturer—as a result of problems with the medication.
The Food & Drug Administration (FDA) Issues Safety Alert on Yaz - Yazmin - Ocella
The FDA has determined that the Yaz birth control pill has been linked to dangerous heart problems.  The manufacturer of Yaz has been warned that the pill increases the risks for:
Blood Clots
Heart Attack
Stroke
Gallbladder Disease
Hyperkalemia in certain high-risk patients
Additionally, Yaz mixed with other drugs can cause a rise in potassium which may lead to fatal arrhythmias.  The manufacturers of Yaz have been in trouble with the FDA for marketing the drug as a cure for headaches and acne, uses of the pill that were not approved by the FDA.  If you or a family member took Yaz and suffered heart or other serious medical problems, contact our office to get information about a Yaz lawsuit.
In addition, Drug Watch reports that the manufacturers of the drug have been cited for marketing irregularities which downplayed risks and misled some consumers to use the product for mild acne problems.
All told, many different problems have been associated with this product.  It is vital for injured victims and their families to seek legal representation as soon as possible to protect possible legal claims for the harm.
Legal Help
If you or a loved one suffered an injury as a result of YAZ, Yazmin or Ocella, The Rothenberg Law Firm LLP can provide the experienced legal help you need.  You can fill out a free online case evaluation form or we can be reached at 1-800-624-8888.  Your initial consultation is always FREE and there will be no legal fees unless we are successful in getting you money.  Contact us today.