One of the most high-profile recent medical device recalls involved certain metal-on-metal Depuy hip implants.
The recall was issued by DePuy Orthopaedics due to design flaws in the metal-on-metal hip implant which were shown to have a much higher than expected failure rate. This, and other complications arising from the faulty design, can lead to pain, swelling, walking difficult, and usually require revision surgery to correct. About 93,000 of the company's ASRXL Acetabular System and the ASR Hip Resurfacing Systems have been surgically implanted worldwide. DePuy Orthopedics is a division of Johnson & Johnson.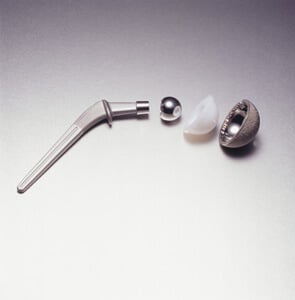 The Hip Implant Problem
A typical hip replacement is supposed to last and average of 15 years. However, public record show the DePuy ASR hip failure rate at five years affects roughly one out of every 8 patients, or about 12% of all those receiving the implant. Some evidence suggests that this may be even higher among women and those who received a device with a smaller head.  With more than 90,000 of these hip implants sold worldwide, over 11,000 people could require additional hip replacement surgery due to the potentially defective design of this implant.
Since the initial recall, more information has come forward indicating what the company knew about the failure rate, when they knew it, and what steps they took (and didn't take) to protect consumers.  All of this will play into legal liability issues.  The first of many Depuy Lawsuits for hip implant failure began in August of 2010.  Since that time many more have come forward and shared their story of problems with their hip implant.
The hip implants have been associated with such issues as:
Pain
Infections
Fractures
Dislocation
Sensitivity To The Metal
Loosening Of Parts
In order to protect your rights, it may be necessary to bring legal action against DePuy. The best way to ensure that your DePuy Lawsuit results in compensation for your injuries is to secure the counsel of a lawyer.
Finding Legal Representation for DePuy Hip Recall Lawsuit
If you or someone you know has suffered an injury as a result of DePuy ASR Hip Replacement Systems, call The Rothenberg Law Firm LLP at 1-800-624-8888 or submit an InjuryLawyer.com online case evaluation. The initial consultation is FREE of charge. If we agree to take on your case, we work on a contingency fee basis. This means that we collect fees for our services only if there is a monetary recovery of funds.
In many cases, a lawsuit must be filed before an applicable expiration date, known as the Statute of Limitations. It is important then to please call or contact us right away in order to ensure you are not foregoing your rights to possible compensation.