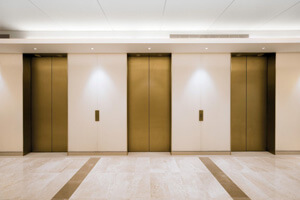 New York City Slip and Fall Injury
Last month, a 12-year-old girl sustained serious injuries in a Manhattan accident when she fell approximately 35 feet down an elevator shaft, according to a recent article in the New York Times. Nearly 20 emergency workers responded to the scene of the accident. A spokesperson for the New York City Fire Department, indicated that authorities do not know how the girl got into the elevator shaft, but they do know that "she fell from the first-floor lobby to the elevator pit in the subbasement."
Firefighters were able to rescue her from the elevator pit and rushed her to Bellevue Hospital Center in serious condition.
Who is responsible for this serious fall and child injury? According to the New York Times, the building management company was recently fined $250 "for failing to keep an elevator up to code in the building." The company allegedly "paid the fine and corrected the problem" following its December 2013 citation, but the recent accident remains under investigation.
Slip, Trip, and Fall Accident Statistics
How can we prevent slips, trips and falls? Are some people more at risk of experiencing a dangerous fall than others? According to the National Safety Council (NSC), "falls are one of the leading causes of unintentional injuries in the United States." In fact, each year about 8.9 million Americans visit emergency rooms to be treated for injuries sustained in slips, trips, and falls.
Generally speaking, older adults are more likely to be involved in a slip and fall accident than persons in other age groups. In many cases, falls among the elderly can be very serious, leading to traumatic brain injuries, other catastrophic injuries, and even death. Based on data collected by the NSC, "the number of fall deaths among those 65 and older is four times the number of fall deaths among all other age groups."
In order to avoid a slip and fall accident, you should be particularly careful in common locations for falls. According to the NSC, falls frequently occur in some of the following areas:
Stairs
Ladders
Doorways
Uneven surfaces
Unstable surfaces
Areas "prone to wetness or spills"
Areas with a lot of clutter
Areas with a lot of foot traffic
How can you prevent a fall? The NSC suggests:
Clean up spills and puddles immediately;
Do not stand on wobbly surfaces or those with wheels, such as tables or chairs;
Remove potential tripping hazards from walkways and stairs;
Secure electrical cords in areas with foot traffic; and
Always check the condition of your floors and staircases—if there are conditions that could lead to a slip and fall accident, clean or remove the hazard immediately
Contact an Attorney for Help
Unfortunately, slip and fall accidents do occur, and they can lead to serious injury. If you have been injured as a result of a fall, contact a personal injury lawyer to learn more about filing a claim for compensation.