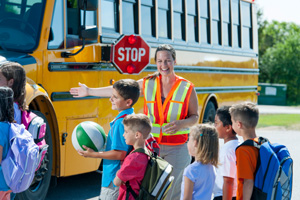 For most American kids, the end of summer means that it is time to go back to school. But this time of year also comes with an increase in bus accidents and injuries. According to a recent article in the Times and Democrat, returning to school results in thousands of children boarding buses
on a daily basis for transportation to and from school. For many of those kids, they will also be riding buses when traveling to and from extracurricular school-related activities.
The National Highway Traffic Safety Administration (NHTSA) emphasizes that school buses are "safer than passenger vehicles in avoiding crashes and protecting against injury." Indeed, the use of school buses means that roads and highways are less crowded, and free-flowing streets "are less conducive to accidents." It is, nonetheless, important for kids and parents alike to be aware of potential hazards and the risks of injury in a school bus accident.
What do you need to know about bus accidents? First, there is a common misconception that most child injuries occur when a school bus is in motion and the child is already on board. However, experts have described a ten-foot "danger zone" around school buses and identify it as the site in which kids are most likely to sustain an accidental injury. Bus drivers and other automobile drivers tend to have a difficult time seeing kids when they are standing in this danger zone. As such, it is easier for a child in this area to be struck by the school bus or by an oncoming car.
Safety Rules for School Buses
According to a fact sheet from NHTSA, on average, 19 school-age kids die in transportation-related accidents every year. About 25 percent of those fatalities are school bus occupants, while 75 percent are pedestrians who are struck by a school bus. A large majority of the victims are between the ages of five and seven.
What can parents do to keep their kids safe when they travel to school? Teach your children some important safety rules for school buses:
Always arrive to the bus stop early. By getting to where you need to be in advance, your child will not be in the position of having to run toward the bus to catch it, potentially placing him or herself in the danger zone associated with accidents and injuries.
Wait for the bus on the sidewalk, not on the street. If there is no sidewalk available, wait in the grass. It is important to avoid stepping onto the street until the bus has come to a complete stop.
When you get onto the bus, find a seat and sit down. If there are seatbelts, buckle up. And while the bus is moving, remain seated.
Ensure that your head and hands remain inside the bus, and avoid throwing anything out of the bus windows.
Always keep the aisles clear.
Do not distract the bus driver. It is important to avoid being extremely loud or engaging in other behaviors that could lead to a distracted-driving accident.
When you get off the bus, always walk ten steps in front of the bus and then cross in front of the vehicle so the driver can see you.
Never get into someone's car after getting off the bus unless you have your parent or guardian's permission.