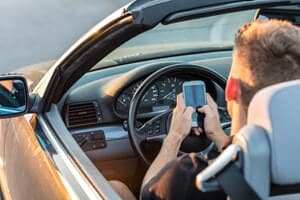 During National Teen Driver Safety Week, Advocates Raised Awareness About Preventing Car Accident Injuries 
What is the best way to help teens learn about safe driving practices and discourage distracted driving? According to a recent news release from The Children's Hospital of Philadelphia Research Institute, the answer is not to "scare them straight" to prevent car accidents. From October 16 through 22, 2016, safety advocates across the country observed National Teen Driver Safety Week (NTDSW), which is "dedicated to raising awareness and seeking solutions to preventable teen deaths and injuries on the road." Programs connected to NTDSW were held at local high schools, as well as various community centers in cities throughout the U.S.
As the news release explains, attempting to "scare teens straight" about the dangers of distracted driving or impaired driving simply is not a method that tends to lower the rate of serious and fatal teen car accidents. Such tactics "can be overwhelming and cause teens to shut down." What methods do work, then? According to researchers, many teen drivers already recognize that they are at greater risk of being involved in a severe crash due to their inexperience. As such, the best ways to reach teen drivers tend to be those that focus on "positive actions teens can take to be safe and to keep their friends safe."
Some of the topics for discussion included distracted driving, the role of parents in teaching teen drivers proper protocols on the road, the value of Graduated Driver Licensing (GDL) programs, the importance of wearing seat belts, and the harms of speeding and impaired driving.
Facts and Figures Concerning Teen Drivers 
According to the AAA Foundation for Traffic Safety, the following facts and figures highlight the risks associated with teen driving:
In 2015, the rate of teen driving fatalities rose by 10%.
Around 10% of teens involved in deadly accidents are distracted at the time of the crash.
AAA recommends that all states adopt a GDL program for every teen driver under the age of 18 in order to give younger, inexperienced drivers the opportunity to gain experience in lower-risk settings. A fact sheet from the National Safety Council (NSC) states that approximately 50% of all teenage drivers will be in some type of auto accident before they graduate from high school. What else can parents do to help prevent serious and deadly traffic collisions? The NSC recommends the following:
Do not allow teens to use cell phones in any capacity while they are driving;
Do not allow teens to drive with any other passengers;
Do not permit teens to drive unless they are wearing a seat belt;
Do not permit teens to speed or engage in other aggressive driving behaviors; and
Emphasize the importance of avoiding impaired driving or riding with an impaired driver.
If your teenage driver was involved in an auto accident, contact an experienced car accident attorney to determine your teenager's rights.