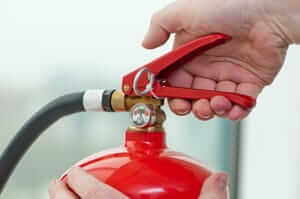 Holiday Fire Safety in New York
Did you know that fire safety tips are commonly overlooked during the holiday season? According to a publication from the New York State Office of Fire Prevention and Control, serious house fires and burn injuries occur each year in New York and across the country, but many of these accidents are preventable if you pay attention to some important safety tips.
Whether you are hanging lights outside or inside, it is extremely important that you follow the instructions for use on the package. For instance, do not use lights outside that have been manufactured for indoor use only. Unplug any holiday lights before you go to sleep at night. In addition to electric lights, it is also important to be careful with candles. Ensure that any lit candles are on stable candle holders so that they cannot be knocked over, and avoid leaving lit candles unattended.
Quick Tips for Keeping Family Members and Guests Safe 
What are some quick tips you can rely upon to prevent fires and serious burn injuries this holiday season? The publication mentioned above, as well as a fact sheet from the American Red Cross, offer some useful safety tips to follow from Thanksgiving and into the New Year:
Check that you have working smoke alarms on each level of your house and in every bedroom;
Develop a fire escape plan for family members and holiday guests;
Never place holiday decorations within three feet of heat sources, including fireplaces, heat vents, portable space heaters, or candles;
Only use lights that are in good condition;
Discard holiday lights that have frayed electrical cords;
When cooking, remove any flammable objects (from pot holders to food packages to wooden cooking utensils) away from the stove top; and
Assign one person the job of ensuring that all lights are unplugged and all candles are extinguished before bed each night.
Have a happy and safe Holiday Season!