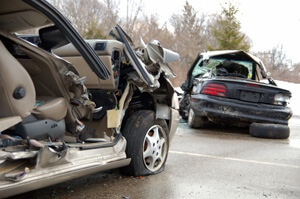 Accident risks are around us every day.  Think about it: as you walk to work you dodge a car that speeds through a red light, narrowly missing becoming harmed in a motor vehicle accident. You walk down two blocks, turn the corner onto a construction zone, and narrowly miss a hammer dropped by a worker from up above. Afterwards, it is only at the last minute that you catch a hole in the ground in front of you where no warning sign was placed. At work, you avoid the escalator malfunction that has injured three people that morning by deciding to take the stairs. The list of possible accidents that could occur at any moment goes on and on.  Whether we know it or not, much of our lives are guided by near misses.
But there will always be times when luck is not on your side, and you are hurt because of the acts of another. Whether it be those in charge of maintaining safety measures at a construction site, an irresponsible driver, or a larger company that has put out a harmful product. Once you have been injured, on top of dealing with the pain, you now have to deal with the expenses associated with the accident, whether it is repair costs for your car or medical expenses  for you or your loved ones. Injuries incurred from accidents can range from broken bones or a minor bodily injury, to a traumatic brain injury, disfigurement, or other serious injuries.
Why should you have to deal with these costs when the accidents were not your fault to begin with? Well actually, you don't always have to do it alone. If you contact a personal injury  lawyer who has vast experience in helping fight for the rights of accident victims, you may be able to receive financial compensation to recover for the losses associated with the accident.  This compensation often has to be fought for, as it's more than individuals and any insurance company would like to give. Adjusters and insurance companies may try to take advantage of injury victims who are not being represented by an attorney. That's why it is essential to have an experienced attorney on your side who knows how to navigate the complicated New Jersey law system for your benefit. If you or a loved one has been injured in an accident, you are guaranteed a free case evaluation and free consultation from the experienced personal injury attorneys at The Rothenberg Law Firm, LLP.
*Please note that at The Rothenberg Law Firm, LLP your initial consultation with our legal team experienced with personal injury cases is always free.
* We will not charge you any fees unless we are successful in getting you money.
What Types of Accidents Can I Recover For in New Jersey?
If your accident was caused by the negligent acts of another, you are entitled to receive fair compensation for your losses. Depending on your particular case, you may be able to recover for your medical bills, loss of wages, and pain and suffering. Here are a few examples of the types of cases that accident victims are  able to recover for:
Accidents involving children

: Children can be involved in a variety of accident cases, such as getting hit by an oncoming car while they are bike riding or playing. A child is innocent and precious, and there are many instances where someone else should have taken care to avoid any harm to that child but failed to do so. This can also include injuries caused to a child during birth that could have been avoided with more care on the part of medical staff or others. In these instances, a parent can recover compensation for their child's injuries as well as emotional distress.

Construction Accidents

: Many accidents have been known to occur in or around a construction site. These injuries can be caused by dangerous conditions at the construction sites, crane accidents, improperly hoisted loads, and more. Construction sites should be safe for workers and pedestrians and those that are responsible to maintain safety standards must do so as terribly harmful accidents can occur if these standards are not properly enforced. Whether you are an employee or just a passerby, you may be able to recover for your injuries. 

Premises Liability or Slip and Fall Accidents

: Accidents can occur in common areas of buildings or other premises. The owner of the premises is responsible to keep such areas safe for the public. This includes examples such as ensuring that sidewalks are cleared from ice or that supermarket floors which have recently been washed are labeled as such. If these and other precautions are not taken to maintain safety on a premises,  accident victims can recover compensation from an owner in these cases with help from a personal injury lawyer.

Car Accidents

: Nowadays, it is hard to avoid distracted driving.  From texting to drunk driving, auto accidents are inevitable and insurance rarely covers the full amount of the expenses you have incurred. Even with a car crash as a minor rear-end, it can be difficult to receive fair compensation for the damages and injuries caused by the at-fault party. Your injuries as well as other losses can be recovered in these cases with the help of a New Jersey auto accident lawyer. The New Jersey car accident attorneys at The Rothenberg Law Firm LLP have decades of experience dealing with auto insurance agencies and automobile accidents.

Wrongful Death

: It is painful to lose a loved one, but even more painful to find out that this loss could have been avoided. Aggrieved family members can recover for emotional distress as well as any financial loss incurred due to the death of a loved one.

Medical Malpractice:

We always want to trust that our doctors are giving us and our loved ones the best medical care possible. However, it does happen that doctors make mistakes or provide suboptimal care that can lead to harm or death of the patient. In these difficult cases, a personal injury lawsuit conducted by a lawyer with decades of experience may make the difference in your ability to recover maximum compensation for any medical attention needed.

Dangerous Drugs:

Sometimes, medications that have been approved by the Food & Drug Administration for medical treatment can cause serious injury. Some prominent examples include the use of Zantac, Xeljanz, Elmiron and Belviq . In many cases, the pharmaceutical company's oversight in these cases gives you the right to sue.

Truck Accidents. Motorcycle Accidents, and Bus Accidents:

You can get into an accident with anyone, anywhere. These motor vehicle accidents can lead to severe property damage and permanent injury. For these cases, personal injury protection should be fought for with an experienced auto accident attorney experienced in New Jersey law at your side.

Product Liability:

When a company has produced a harmful or faulty product, such as a vehicle that causes a car accident injury due to defective safety features, victims can pursue a personal injury claim to receive compensation for the harm caused. In these cases, a New Jersey car accident lawyer who is experienced in personal injury law will help you to receive compensation for the faulty product sold to you.

And more!
What Information do I need to Pursue a Personal Injury Claim?
For any type of accident that may occur, there are important things to be aware of in order to make your case for compensation the best it can be. For example, in a New Jersey auto accident, one should make sure to keep a hold on the police report from the accident, any pertinent medical records from the injuries sustained due to the accident, as well as photos and contact information for the participants in the accident and witnesses of the accident scene. For each case, the information that will help your case may be different. Schedule a free initial consultation to speak to an experienced attorney who can guide you through this process. 
How Much is my Accident Worth?
For all accidents, the amount of compensation one can receive varies. It can be difficult to estimate because of all the different factors at play in a case. For example, in a car accident case, compensation may depend on one's own insurance policy limits, the degree of damages, etc. In all cases, however, one may be eligible for both economic and non-economic damages. Economic damages for car accident victims may include the cost of damages to your vehicle and the price of medical treatments for your injuries. However, there are also non-economic that one can seek compensation for. These are harder to estimate because they include non-quantifiable damages such as the pain one has dealt with as a result of the accident. Consulting with the professional attorneys within the legal team at The Rothenberg Law Firm LLP will help get you a better idea of the type of compensation you may be eligible for.
How Can I Recover Compensation from an Accident in New Jersey? Receive a Free Consultation with Attorneys with decades of experience handling New Jersey Injury Claims.
An experienced accident lawyer will help you recover for your injuries. The seriousness of your injuries and ensuing medical treatment can add overwhelming financial responsibilities that you should not have to pay for. An accident attorney will relieve some of that financial burden by holding negligent parties legally responsible for their actions. Do not allow those who are negligent get away with causing you pain – consult with the accident attorneys at The Rothenberg Law Firm LLP today.
The experienced New Jersey accident attorneys at the law offices of The Rothenberg Law Firm LLP not only focus on your personal injury law claim,  but we also care deeply about the lawyer-client relationship. We want to help you be successful and receive the compensation and relief that you deserve.
It is best to contact one of our personal injury attorneys experienced in these practice areas as soon as possible following any type of accident. In the state of New Jersey, the statute of limitation for accidents is typically around two years after the accident and can eventually limit your ability to take legal action. Do not lose your opportunity to receive the compensation you deserve.
.