New Jersey Bicycle Accidents
Who doesn't enjoy bike riding? 
In the everyday hustle bustle of our fast paced world, biking is a wonderful way to relax and spend quality time with family and friends.
Unfortunately, however, New Jersey bicycle accidents happen much too frequently.  As a result it's extremely important for bikers to understand  their legal rights and to turn to an experienced New Jersey bicycle attorney in the event they are involved in any type of bike accident. 
NEW JERSEY BIKE ACCIDENT INJURIES: SOME ALARMING FACTS
Injury Facts from the National Center for Health Statistics reports that of the 1,024 bicyclist deaths in 2018, 682 died in motor-vehicle crashes and 342 in other incidents.  Additionally according to Injury Facts, The Consumer Product Safety Commission reports 424,350 emergency department-treated injuries associated with  bicycles and bicycle accessories in 2018. This estimate includes both preventable and intentional injuries. 
New Jersey is no exception!
The State of New Jersey, Division of Highway Traffic Safety, has determined that  "each year, bicyclists are killed or injured in New Jersey due to bicycle crashes. Many bicycle deaths result from bicycle-motor vehicle collisions. However, injuries can happen anywhere, including parks, bike paths and driveways, and often do not involve motor vehicles."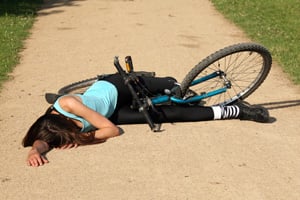 Ride a bike that fits you—if it's too big, it's harder to control the bike.

Ride a bike that works—it really doesn't matter how well you ride if the brakes don't work.

Wear equipment to protect you and make you more visible to others, like a bike helmet, bright clothing (during the day), reflective gear, and a white front light and red rear light and reflectors on your bike (at night, or when visibility is poor).

Ride one per seat, with both hands on the handlebars, unless signaling a turn.

Carry all items in a backpack or strapped to the back of the bike.

Tuck and tie your shoe laces and pant legs so they don't get caught in your bike chain.

Plan your route—if driving as a vehicle on the road, choose routes with less traffic and slower speeds. Your safest route may be away from traffic altogether, in a bike lane or on a bike path.