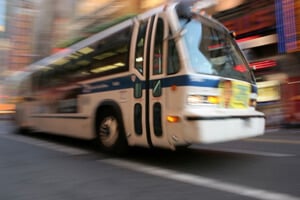 There are numerous reports of bus accidents across the country each year. In 2016, the U.S. Department of Transportation reported that 4,440 large trucks and buses were involved in fatal crashes nationwide. Since passengers on a bus are not protected by the safety measures present in a car, and cars that collide with buses are not able to withstand the impact, thousands are injured and killed every year due to buses.
Buses Hurt Innocent Victims
The most common reasons bus accidents occur are:
 Driver fatigue
 Driver incompetence
 Aggressive driver; and
 Poor bus maintenance
In addition to the above causes, statistics provided by the National Highway Traffic Safety Administration suggests that bus drivers have limited visibility on their right side as buses often collide with other vehicles on that side.
Depending on the accident, a bus can cause someone to have a minor bump or bruise or have a more serious injury such as broken bones. Other injuries can include, but are not limited to, minor scrapes, whiplash, spinal cord injuries, brain injuries and paralysis. While some injuries may appear to be minor at first, it is imperative for victims of bus accidents to visit the hospital to make sure that no injury is or will become life-threatening or life altering.