Video ID not provided: Please check your shortcode.
Automobile accidents happen frequently and our New Jersey car accident personal injury lawyers are here to help determine your rights. While some motor vehicle accidents are not as serious as others, many accident victims sustain severe and often life-threatening injuries, as well as exorbitant medical expenses.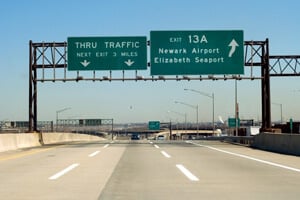 Because many New Jersey residents commute into Philadelphia, New York City, and other major metropolitan areas, our highways tend to see significant amounts of traffic, which may lead to more car accidents. Car accidents are unpredictable-they happen suddenly and without notice. While we cannot anticipate an automobile crash, we can work with an experienced legal team to submit an injury claim and receive fair compensation for the damages caused by a serious accident.
Car Accident Statistics in New Jersey
The National Highway Traffic Safety Administration (NHTSA) reports that nearly 600 car accident fatalities occur every year in New Jersey alone. Many of these fatalities result from driving under the influence, drowsy driving, and distracted driving. In addition to this high number of fatalities, NJ sees more than 250,000 accidents per year, according to the NJ Department of Transportation.
Common Causes of Automobile Accidents
Is driver negligence the only cause of car accidents in the state? Driver negligence is only one category of causes for accidents and fatalities. According to data from NHTSA, the following are typically to blame for dangerous automobile crashes:
Driver negligence: this category includes drowsy driving, driving under the influence, and distracted driving. This category accounts for any accident resulting from an act or omission of a driver.
Automobile defects: this category includes defective parts, such as seat belts or tires, as well as a defective design. In these cases, accident victims may be able to file a product liability claim.
Third-party liability: this category refers to accidents in which neither a driver nor a defective aspect of the vehicle led to the car crash. In general, these claims might be the result of a hazardous road condition caused by construction or poor road design. In these cases, an injured person may be able to file a claim against the municipality responsible and you should always speak to an experienced New Jersey injury lawyer to discuss your case.
These accidents could occur with other car drivers, motorists, and truck drivers. Each of these causes can lead to different damages and injuries. Discussing the causes and effects of an accident with an experienced motor vehicle attorney will help you to receive fair compensation from the at-fault party.
What Is Comparative Negligence In New Jersey?
There are car crashes where each party shares equal responsibility for the events leading up to the accident. There are also clear-cut cases where only one negligent driver's actions caused the accident.
Like many other states, New Jersey operates under a system of fault determination called "comparative negligence." Under a comparative negligence system, a court will assess the dollar amount of the plaintiff's damages while also reviewing the extent to which each party is liable for the accident. The amount of compensation the plaintiff is eligible to receive will be reduced by any percentage of fault the court determines rests with the plaintiff.
Comparative Negligence Vs. Modified Comparative Fault
New Jersey is more accurately described as having a "modified comparative fault" framework. In layperson's terms, this means the plaintiff will have their overall compensation reduced by the percentage they are deemed liable. However, if the plaintiff is found more negligent than the defendant, they cannot receive any compensation for damages. New Jersey sets the limit at 50%, meaning that the plaintiff's own negligence must be less than 50% in order to collect an award of damages.
A "modified comparative fault" state like New Jersey is different from states that have adopted a "pure comparative fault" structure. The states that follow this scheme allow people to recover compensation for personal injury damages regardless of what percentage of their own negligent actions.
New Jersey's modified rule illustrates the importance of having an attorney who will thoroughly investigate the accident and the circumstances leading up to it. If liability is not clear, then who you choose as your attorney, could be the difference in a jury finding you more or less than 50% at fault.
Discuss Your Rights with a New Jersey Car Accident Attorney with a Free Consultation
At The Rothenberg Law Firm LLP, our dedicated car accident lawyers have been handling personal injury cases for decades. Our experienced injury lawyers offer a free case evaluation and free consultation today. You deserve personal injury protection. Auto insurance companies want to offer the lowest possible amount for your injuries and the other side is often not willing to admit fault. You should know that you have a right to be compensated for your injuries and property damages.
*** Your initial consultation is always free.
*** We work on a contingency fee basis- which means we only get paid if we are able to win money for you. There are no upfront fees.
If you or a loved one has sustained injuries in an automobile accident, it is important to speak to an experienced attorney to learn more about your rights.
Each automobile accident case is different, and it's very difficult to estimate the amount of damages an injury victim can recover. In general, however, car accident victims may be eligible to seek compensatory damages, which include economic damages and non-economic damages. Economic damages compensate plaintiffs for specific, tangible financial losses. These are damages that have a precise dollar figure already attached, like a medical bill or lost wages. Non-economic damages are a bit more complicated to figure out because they are aimed at compensating individuals for intangible losses, such as pain and suffering as a result of any serious injuries sustained in a car accident.
If your car accident injuries prevent you from working, you may be able to recover lost wages or lost future income.

When a car accident leaves a plaintiff with serious injuries, that person will need medical attention. Their medical treatment may lead to significant hospital bills and other related medical expenses, such as those resulting from a brain injury or other significant injury.  These expenses can be a huge burden on the injured party and their family and you should be compensated for those losses. This includes wrongful death caused by an accident.

If you will require physical therapy or rehabilitative medical treatment, you can seek to be compensated for these future costs.
Examples of non-economic damages include:
Pain and suffering caused by the trauma of the injuries.

If the accident has left you with a permanent injury such as permanent disability or disfigurement, you can seek compensation for the emotional injuries connected with these losses.

If a car accident causes the death of a loved one, a family member can seek damages for loss of companionship, or loss of consortium.
In some cases, accident victims may also be able to seek punitive damages. Punitive damages are intended to punish a defendant for a particularly egregious act and to deter such conduct in the future. These might arise in cases, for instance, where a product defect caused a car accident, and the plaintiff is seeking punitive damages from the manufacturer.
When you have been in a car accident, you can feel scared and disoriented. If you have been injured- seek medical care immediately. If you are physically able, it's also important to obtain as much information about the scene of the crash as possible. If possible ask someone to try to take photographs of the scene, obtain information about the police report, and to record names and contact information for others involved in the crash and for any witnesses. After the crash, it is essential to keep track of medical records for the care you received for your injuries due to the accident.
The Rothenberg Law Firm LLP has a checklist that can help accident victims to know "What To Do After A Car Accident." You can access it by clicking here.
It is best to contact a personal injury attorney experienced in these practice areas as soon as possible following a motor vehicle accident. In the state of New Jersey, the statute of limitation for automobile accidents is two years. Do not lose your opportunity to receive the compensation you deserve.
Have you been injured in a car crash? Many accident victims want to know if they have valid car accident claims for compensation. Every case is different, so it is difficult to assess the merits of a case without the guidance of an experienced car accident lawyer. At The Rothenberg Law Firm LLP, you can speak with an experienced auto accident lawyer to discuss the specific facts of your case and to receive advice about how to move forward with your personal injury claim.
In general, however, if you did not cause the accident and you sustained injuries, you may be able to file a claim for financial compensation. Car accidents primarily involve lawsuits against other negligent drivers, but they can also involve product liability claims against large manufacturers in cases where an automobile defect led to the crash - or claims against a municipality in a situation where there was a hazardous condition. Our attorneys will always provide a free consultation to help you understand your rights. You have nothing to lose by contacting one of our car accident attorneys and discussing the details of your case.
It is always important to have an experienced car accident lawyer on your side to navigate the New Jersey law system. It may be tempting to handle the case on your own by simply accepting a settlement offer from the defendant or an auto insurance company, but The Rothenberg Law Firm LLP wants to make sure that you receive maximum compensation for your injuries. Do not settle for the minimum compensation provided by the other driver's insurance coverage.
Despite any insurance adjuster's assurances, you should always keep in mind that the car insurance company is not on your side. Insurance adjusters are going to do everything possible to pay you as little as they can. Some accident victims accept unfair settlements without understanding their rights in order for the insurance company to try to avoid a personal injury lawsuit. By hiring an experienced auto accident attorney, you will show the other side that you want fair compensation for your injuries and that you have a dedicated advocate on your side who is willing to fight for your personal injury claim. Do not let an insurance company take advantage of you.
Additionally, New Jersey is a no-fault state. This means despite whoever is at fault for the accident, you may be able to file a personal injury protection (PIP) coverage claim with your own insurance to receive compensation.
In many cases, car accident claims result in out-of-court settlements. However, if you do need to take your case to court, the dedicated injury attorneys at The Rothenberg Law Firm LLP have years of trial experience handling accident claims and will advocate for you in the courtroom. Indeed, the defendant may be more likely to agree to a reasonable settlement if it knows you have an experienced attorney on your side who will fight for your rights.
You should never accept a settlement offer from an insurance company without speaking to an experienced personal injury attorney. No matter how pleasant or agreeable an insurance adjuster might seem, it is important to remember that the insurance company wants to pay you as little as possible for your injuries.
Adjusters often contact accident victims soon after the car crash, and it is essential that you refuse any settlement offers at this time. You do not want to handle an insurance company on your own. Your initial consultation with The Rothenberg Law Firm LLP is free, and we can discuss your case with you today.
New Jersey Car  Accident Lawyers  Advocate for You
Have you been injured in a NJ automobile accident? It is never too soon to speak to an experienced new jersey car accident lawyer. The dedicated team of personal injury attorneys at The Rothenberg Law Firm LLP have decades of experience handling automobile accident cases and can help you obtain the compensation you deserve. We serve clients in New Jersey and throughout the tri-state area.
Contact us today to learn more about filing a claim for financial compensation